I was out of the office for four days last week; I worked from home on Tuesday, and then took the rest of the week off so that my Dad and I could take our annual "father and son trip" to the Weak Signals model airplane and drone show in Toledo, Ohio.
We had a blast – we always do.
We looked at all the exhibits, scoured the "swap meet" for bargains, and had dinner with close friends from Sullivan Products, an innovative Baltimore firm that started out as a model airplane products firm but is now blazing trails into drones.
I also covered the show closely on Twitter (you can see my posts here).
At the show, I saw this model of probably my single favorite fighter plane of World War II – the P-51B Mustang, nicknamed "Shangri-La," the personal plane of U.S. ace Don Gentile.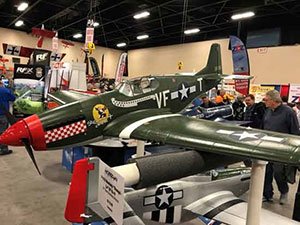 Well, it's amazing what you miss when you take a few days' break…
…like the growing concern folks are feeling over the uncertain stock market.
Indeed, in the span of just eight hours the other day, there was one worry I kept hearing over and over and over again.
At the gas station convenience store I stop at each day…
In text messages from friends…
In "water cooler chats" with young colleagues here at Money Map Press…
From the marketers who pitch our products…
And even from some of the strategy-crafting managers here…
It was all the same. The question: What do you think is happening with the financial markets – with stocks – and what should (I/investors/our subscribers) be doing in response?
My short answer: Ignore it. I am.
Indeed, if you want an investment strategy that'll get you through whatever comes next, I have it for you.
Be like Dory.
Dory is the regal blue tang who's one of the main characters in the blockbuster "Finding Nemo" and "Finding Dory" films from Pixar Animation Studios. Dory suffers from short-term memory loss – which keeps her from worrying about much.
And Dory has an exceptionally upbeat life view – bolstered by her personal mantra – "Just keep swimming."
Now that's an investment strategy that will get you from A to B, and by "B," I mean "extremely wealthy."
I'm going to show you why this works. And I'll even give you a couple strategies to augment the "Be Like Dory" approach to wealth creation.
Join the conversation. Click here to jump to comments…
About the Author
Before he moved into the investment-research business in 2005, William (Bill) Patalon III spent 22 years as an award-winning financial reporter, columnist, and editor. Today he is the Executive Editor and Senior Research Analyst for Money Morning at Money Map Press. With his latest project, Private Briefing, Bill takes you "behind the scenes" of his established investment news website for a closer look at the action. Members get all the expert analysis and exclusive scoops he can't publish... and some of the most valuable picks that turn up in Bill's closed-door sessions with editors and experts.