The profits can be outrageous, but the precious metals sector is a notoriously challenging place to invest smartly and profitably.
A big reason why: Sentiment has an outsized impact on prices. Gold is one of very few assets people actually want more of when it goes up in price.
So it makes good sense to own gold stocks in addition to any physical metal you've got stashed.
Trouble is, there's no shortage of choices... and price, future earnings potential, and quality are all over the map.
That's why gold exchange-traded funds (ETFs) are essential in your gold holdings. You get a great way to gain exposure to all sorts of gold companies while keeping downside risk to an absolute minimum.
Now, for years, gold ETFs were limited to bullion - "paper gold" backed by metal locked away in a vault somewhere - or the miners and junior miners involved in prospecting and extracting the stuff from the ground.
But... recently, one of the sharpest, wealthiest resource investors on the planet turned me on to a brand-new way to invest, easily, all in one fell swoop, in one of gold's most wildly profitable, well-managed segments.
Gold owners have been craving a way to do this, but it's only been recently that this has even been possible...
[mmpazkzone name="in-story" network="9794" site="307044" id="137008" type="4"]
The Investing Legend Who Put the "Smart" in "Smart Gold"
U.S. Global Investors is known for its proficiency in gold and precious metals, natural resources, and emerging markets. It's one of the one of the biggest names in the resource sector.
CEO and CIO Frank Holmes' specialized knowledge of the international capital markets gives him a unique expertise in resource-based industries and money management.
Rare Opportunity: The legendary Rick Rule is offering you access to his personal portfolio. You'll get the chance to learn how to invest right alongside Rick on six extremely lucrative deals.
He's got impeccable resource investing chops (and a sizeable fortune to boot). He's the co-author of "The Goldwatcher: Demystifying Gold Investing."
He's also won numerous industry awards, too, including the 2011 U.S. Metals and Mining "TopGun" by Brendan Wood International, the 2016 Best Americas-Based Fund Manager from The Mining Journal, and, in 2017, the USERX Gold and Precious Metals Fund won two Thomson Reuters Lipper Fund Awards for three- and five-year periods.
But one of his latest achievements may prove to be the most wildly profitable.
I'm talking about a new, smart ETF Holmes has helped launch - the U.S. Global GO GOLD and Precious Metal Miners ETF (NYSE Arca: GOAU).
I called him up to find out a little more about how this new fund works... and what I heard is nothing less than amazing for gold investors eager to maximize gains while keeping risk to a minimum...
Here's the upshot of what he told me...
Why This Is the Perfect Time for This ETF to Hit Markets
Today, big money is so influential, quantitative fund managers are dominating daily trading.
They can often digest news more quickly than most other investors.
What they mainly look for in precious metals stocks are changes in book value and ongoing profitability on a per-share basis.
With this in mind, Frank decided he would create a smarter gold ETF than the rest of the market was offering. After 8,000 hours of rigorous back-testing and a sizable budget, they created the GOAU ETF.
What that extensive research demonstrated was that, over time, royalty/streaming companies provided the best revenue growth performance on a per-share basis.
One reason why: Royalty/streaming companies simply have a business model that's superior to regular gold miners.
Essentially, they finance miners by providing upfront capital to help fund exploration and production projects. In return, they receive royalties or rights to a "stream" of metals. Streams are amounts of gold, silver, or other metals, to be delivered at a fixed price below that of the market.
And royalty companies have proven themselves to be excellent allocators of capital. So much so, that Franco Nevada Corp. (NYSE: FNV), for example, earns $20 million in revenue per employee, while Goldman Sachs Group Inc. (NYSE: GS) earns just $1 million per employee.
That's 20:1 outperformance, if you're keeping count.
Based on back-testing, the pre-inception performance of GOAU has handily outpaced the NYSE Arca Gold Miners Index (GDM).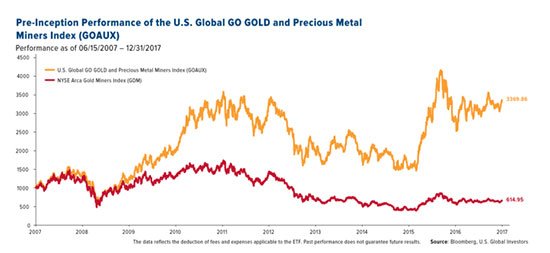 Now, let me show you what's "under the hood," and how it works...
A New Way to Profit on the "Oldest Asset"
So the GOAU tracks the U.S. Global Go Gold and Precious Metal Miners Index (GOAUX), which is designed to capture the performance of companies that produce precious metals through active mining or passive (royalties/streams) means.
The ETF seeks high-quality, well-managed producers with a proven track record of sustainable profitability even when precious metals prices are down.
Rare 99,000% Return: There's a once-in-a-lifetime chance to relive one of the most successful stock plays of the last 100 years. If this company replicates a fraction of that incredible performance, savvy investors could walk away with $20,000. Full story, right here. 
GOAU avoids companies that use debt to finance their businesses and instead applies a smart-factor, rules-based model consisting of common stocks listed on well-developed exchanges worldwide.
North American royalty and streaming companies are emphasized due to their long-term outperformance.
In fact, they've demonstrated that they treat shareholders particularly well, providing greater dividend growth than the broader markets like the S&P 500.
It's little wonder, then, that the three highest-scoring precious minerals companies in North America, as determined by GOAUX parameters, are all royalty/streaming companies, and they're given a weighting of 10% each in the index. Currently, these are Royal Gold Inc. (Nasdaq: RGLD), the aforementioned Franco-Nevada, and Wheaton Precious Metals Corp. (NYSE: WPM).
From there, the index favors the next five highest-scoring precious minerals companies with a minimum market cap of $400 million, and gives them each a 4% weighting.
Right now, these are Harmony Gold Mining Co. (NYSE: HMY), Centerra Gold Inc. (TSX: CG), Dundee Precious Metals Inc. (TSE: DPM), Fortuna Silver Mines Inc. (TSE: FVI), and Tahoe Resources Inc. (NSYE: TAHO).
Next in line are the following 10 highest-scoring companies with a minimum $200 million market cap, receiving a 3% weighting, and finally the next 10 highest-scoring companies domiciled outside North America with a minimum $200 million market cap. These each get a 2% weighting.
The index is rebalanced and reconstituted on a quarterly basis. 50% of the holdings are chosen on a per-share momentum basis, and exposure to foreign mining companies is vital to help mitigate currency risks.
Although the GOAU was only launched back in June 2017, it has easily beaten both the VanEck Vectors Gold Miners ETF (NYSE Arca: GDX) and the VanEck Vectors Junior Gold Miners ETF (NYSE Arca: GDXJ).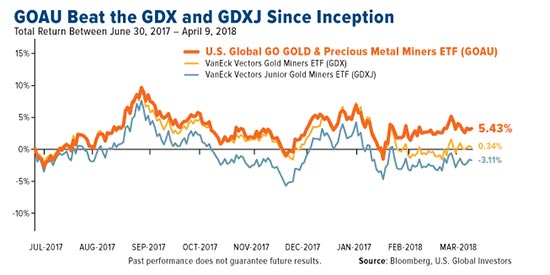 As of March 31, 2018, GOAU has a return on equity of 8.05%, a very attractive P/E ratio of 19.91, and a price-to-book value of 1.22. With a management expense ratio of just 0.60%, GOAU is a downright inexpensive option for smart, profitable precious metals investing.
Next: This Is a Gold Investor's Dream
An industry mogul is going to let you in on his legendary winning streak. We're just as shocked as you are, so we're sharing a few favorites with a small group of Money Morning Members. These are the kinds of picks that made Rick Rule one of the most successful men in the industry - he made millions negotiating special buy-ins. And now you can see how to follow his lead by "getting in" on the deals. Right here, you'll hear about six of them.