Billionaire entrepreneur and Dallas Mavericks owner Mark Cuban is about to get a lot richer thanks to a historic decision made by the U.S. Supreme Court yesterday (May 14).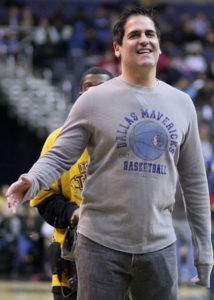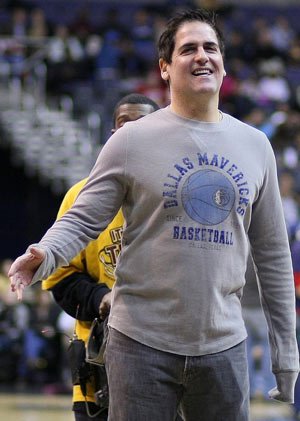 To be specific, the high court legalized state-sanctioned competitive sports gambling.
The entrepreneur-turned-venture capitalist celebrated Monday's verdict by taking to the airwaves - not to tout how much richer the ruling was about to make him, but to clue average investors in on how much richer the court's decision could make them.
Cuban name-dropped two corporations he believes will profit nicely from SCOTUS' verdict - neither of which has any obvious connection to sports betting, but both of which should see a healthy price boost from the decision. And soon.
These are perfect "pick-and-shovel" plays - and they're both investments we at Money Morning have been touting for a while.
So without further ado, here's the quick lowdown of what yesterday's SCOTUS decision means for investors now, as well as how you can profit...
The Investment Opportunity Mark Cuban Sees in Sports Betting
In a 6-3 ruling Monday, "the Supremes" struck down the Professional and Amateur Sports Protection Act of 1992 - a law that barred state-authorized sports gambling, with the exception of Nevada.
Now any U.S. state has the greenlight to offer money wagers on single games. New Jersey, which brought the case to its final destination, plans to be first. Delaware, Mississippi, New York, Pennsylvania, and West Virginia are among the states expected to quickly get into the legal bookmaking game, as well.
The court ruled in favor of the Garden State and against the NCAA, NFL, NBA, NHL, and Major League Baseball, bringing to a close a nearly six-year legal battle and overturning a federal statute that the sports leagues had staunchly guarded for more than two decades.
The profit implications of SCOTUS' ruling are massive, too...
The estimated $150 billion in annual illegal wagers on professional and amateur sports that Americans make every year can now be transacted legally, reported The New York Times yesterday.
And Cuban noted that the core operational force behind these new legalized wagers will depend on one sector: technology.
Top Five: These tiny Canadian pot stocks are set to skyrocket. Click here…
"With technology, it'll be something that's a new form of entertainment," he said.
Then he mentioned the two companies he expects to see handsomely profit from this new and massive market - companies we've been touting for years thanks to their innovation and ingenuity in myriad burgeoning sectors worldwide...
Mark Cuban Is Putting His Chips on These Two Companies
Cuban said he thinks Facebook Inc. (Nasdaq: FB) and Amazon.com Inc. (Nasdaq: AMZN) will benefit from sports betting - two notable tech companies not often associated with sports or betting.
Yet.
Cuban explained to CNBC that other tech companies - semiconductor firms, for instance - don't stand to benefit from sports betting.
It's all about software, essentially; not hardware.
And there's little doubt that the likes of Mark Zuckerberg and Jeff Bezos will come up with their own propriety software to incorporate sports betting into their companies.
Because that's what they do - they innovate, and then they incorporate...
Money Morning Defense and Tech Specialist Michael A. Robinson discussed Zuckerberg's new "innovative maturity" with Money Morning readers just last week - how he's always found the one-time-hoodie-wearing CEO's business decisions spot on, especially when others didn't...
"Zuckerberg had become a Wall Street laughingstock after paying $19 billion for WhatsApp," Michael wrote. "That five-year-old startup had just $20 million in sales and a mere 55 employees [at the time]."
But Michael knew those investors looking down their noses at Zuckerberg had little to no long-term perspective on the young businessman's long-term decisions.
Michael told his Strategic Tech Investor subscribers in 2014 that he was sure "Zuckerberg will have the last laugh here. And if you follow my recommendation... so will you."
It was a bold call, he admits now.
"Wall Street hated the stock at the time, and it was in the tank," he adds. "However, I looked at the numbers and calculated that Facebook stock would roughly double in price to about $140 in as little as 2.5 years."
Nearly three years to the day after his "last laugh" prediction - on March 20, 2017 - folks who took advantage of Michael's initial call had doubled their money.
"And from there, they went on to reach peak gains of 186%," Michael says.
Facebook's acquisition of WhatsApp is just one example of how well its CEO can pinpoint a profit opportunity well in advance of the competition.
And especially when the competition's laughing at him.
That's why we think Cuban's prediction is spot on - like Michael, he's wagering that Zuckerberg will take advantage of a massive opportunity that nobody else sees yet.
And that's a bet we've always taken.
Editor's note: A momentous government announcement is about to change the face of legal marijuana forever – and you could make more money from the stock market than you've ever seen in your life. You see, thanks to this historic legislation, tiny pot stocks trading for under $5 are expected to double, triple, or quadruple. We've been tracking five tiny pot stocks positioned for a massive upward jolt – the kind of gains with the power to turn a small stake into a $100,000 payday. Get more details here.
Follow Money Morning on Facebook, Twitter, and LinkedIn.