Last week, we got the reversal in the dollar I predicted, and it gave gold prices a healthy boost. While gold fell a bit since then, it's a sign great things are ahead for the yellow metal.
Today, I'll break down what happened last week and show you exactly why this could be such a pivotal moment for the price of gold...
Overall, last week saw events upset the currency markets, from Italy's political woes to new trade war threats to a controversy over unemployment numbers in the United States.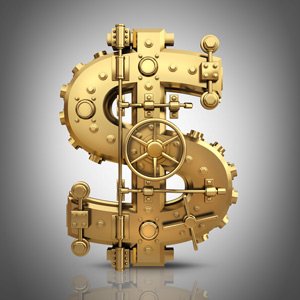 And once again, much of the "twist" to these events centered around U.S. President Donald Trump.
On Thursday (May 31), Trump announced new aluminum and steel tariffs on Canada, Mexico, and the European Union, a threat he's been suggesting for months. That pushed the Dow down 1% that day, while immediately generating retaliatory measures by the affected nations.
Then on Friday (June 1) morning, President Trump tweeted that he was "looking forward" to seeing the latest employment numbers more than an hour before the report's release.
Naturally, traders interpreted Trump's tweet as suggesting strong numbers to come. That caused the U.S. Dollar Index (DXY) to rally early, by 0.4%, from 93.9 to 94.3. Gold got smacked down from $1,299 to $1,288, but immediately reversed as the dollar backed off to rise above $1,300.
But lost in the noise of last week's controversies was evidence the dollar could be starting to work in our favor.
Sign up for SMS so you never miss special events, exclusive offers, and weekly bonus trades.
I'll tell you exactly what I mean, as well as how that could help fuel my latest gold price prediction for 2018...
What the Dollar's Latest Trend Means for Gold Prices in 2018
Last week might've been short thanks to the Memorial Day holiday, but it was still packed with major gold-price-moving events.
Tuesday (May 29) brought news that Italy could fall into political chaos, as the Eurozone's third-largest economy could break from the bloc thanks to a new coalition of populists.
Italian bonds endured a sharp sell-off, with U.S. Treasuries and German bunds benefiting.
You Must Act Now: America is headed for an economic disaster bigger than anything since the Great Depression. If you lost out when the markets crashed in 2008, then you are going to want to see this special presentation...
Gold popped from $1,296 in early morning trading to $1,303 by late afternoon, before closing at $1,298. The DXY pushed all the way up to flirt with 95 much of the day while the euro sank.
Fading tensions in Italy allowed the euro to recover on Wednesday (May 30), pushing the DXY down about 80 basis points to near 94.2. Gold recovered from $1,297 to close at $1,300.
Take a look at how sharply the DXY fell on Wednesday...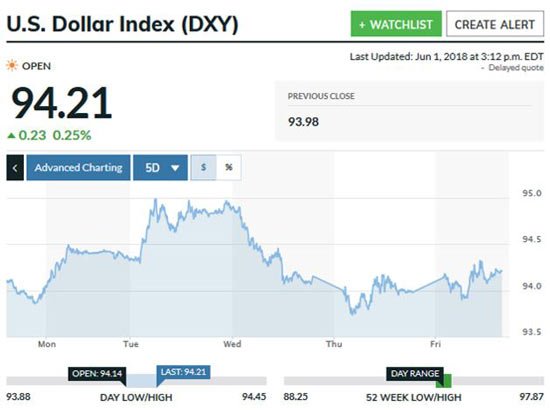 On Thursday (May 31), President Trump announced a new tariff on Canadian and European imports. Gold prices reversed as investors fled stocks and precious metals. The Dow lost 1% and had knocked 100 basis points off the DXY since early Tuesday. Gold closed back at $1,298.
Then on Friday (June 1), with the strong jobs numbers, the DXY climbed back to 94.2 from its Thursday level, near 94. By late afternoon, gold was back at $1,292.
But despite all the noise, the events of last week showed us a powerful catalyst for gold prices. One that could push gold prices to a breakout point.
Here's the catalyst I'm seeing - and my latest gold price target...
How High the Price of Gold Can Rise