Taking advantage of seasonal trends is a great way to beat the market. But buying summer stocks this year could be tricky...
Fortunately, we're here to help.
We'll show you exactly which three popular stocks to avoid, plus one with massive profit potential.
In fact, one investment bank is predicting more than a 60% rise in this company's share price...
A Weak Vacation Season Will Weigh Down These Summer Stocks
Investors looking to catch a seasonal pop from summer travel could be in for a rude awakening if they don't know where to look.
Soaring gas prices are going to weigh down industries connected to driving. That could hurt investors who wade into companies hit by higher gas prices.
And this chart shows you exactly why...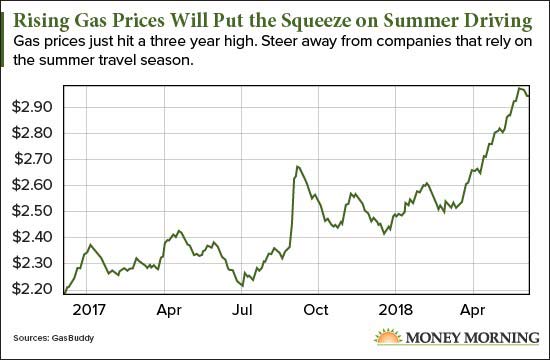 Gas prices are surging to nearly $3 a gallon, their highest price since 2014, just as the summer vacation season kicks off. In fact, gas prices are already 36% higher than they were this time last year.
And last year, Americans spent a whopping $100 billion on vacation, their highest spending level ever. It was also $20 billion more than they spent in 2013, when the average price of gasoline was over $3.60 in early June.
Don't Miss: This secret stock-picking method has uncovered 217 double- and triple-digit peak-gain winners since 2011. Find out how it's done...
With gas prices rocketing 36% higher this year, Americans are going to be less likely to take that trip to the beach or road trip to visit relatives across the country. 41% of Americans say they'll be driving less this year, according to Gallup.
That means popular seasonal plays - especially those that rely on car traffic - could backfire for unsuspecting investors.
One of the worst stocks to play right now is TravelCenters of America LLC (Nasdaq: TA).
It may seem intuitive that higher gas prices will lead to higher profits for gas stations. But gas stations have notoriously thin profit margins on gasoline, which means they are hardly making money on gasoline sales.
That's not the worst part, either. With fewer people driving, stations get fewer customers paying for their more profitable items, like food and drinks.
And that's going to hurt TA's bottom line - and your profits, if you buy in hoping for a seasonal boost.
Other popular summer plays aren't great buys now, either.
McDonald's Corp. (NYSE: MCD) is another firm you might expect to get a pop from vacation travel. After all, weary travelers are looking for quick, cheap, and reliable food on their journeys, and McDonald's is within easy reach across the country.
But McDonald's currently has our lowest Money Morning VQScore™, which means the stock has very little upside right now. And higher gas prices mean fewer travelers, so don't count on summer vacation season to save it.
Our last stock to avoid this summer is Expedia Group Inc. (Nasdaq: EXPE). The stock hit its all-time high last July amid the biggest vacation spending season on record.
But it's been all downhill since.
Since hitting its peak of $159.50 on July 28, the stock slid 25%. Clever investors might look at it as a buying opportunity, especially as vacationers turn to Expedia to book hotels, flights, and rental cars.
Don't count on it. With a VQScore of 1 - our lowest score - we aren't forecasting the stock to run much higher right now, especially as gas prices squeeze summer vacationers.
But there is an excellent way to get a summer pop from one of the best stocks you can buy.
In fact, this company's top product is a household name with a near cult-like following. And you'll certainly be seeing a lot more of it as the weather gets warmer.
Take a look at how this little-known stock could bring you a tidy 60% gain...
The Best Summer Stock to Buy Right Now
[mmpazkzone name="in-story" network="9794" site="307044" id="137008" type="4"]
National Beverage Corp. (NYSE: FIZZ) produces and markets a portfolio of popular beverage products you're already familiar with.
You've likely seen its popular lineup of juices under its Everfresh brand on your convenience store shelves. And you may have tried its discount soda brand, Faygo.
But you've almost assuredly seen its crown jewel...
FIZZ is the maker of the ubiquitous LaCroix sparkling water beverages.
LaCroix is growing four and a half times the rate of the overall sparkling water industry, and that's powering huge sales growth for National Beverage. Net sales for Q3 jumped 16.9%, to $227.5 million from $194.6 million in Q3 2017.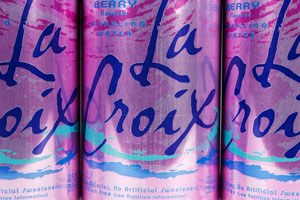 And the company isn't just riding the coattails of a hit product. FIZZ is making money hand over fist.
The company has no outstanding debt, is sitting on $155 million in cash, and continues to increase its profit margin. Its gross margin jumped from 12% in 2017, all the way to 18%. Compare that to the Coca-Cola Co.'s (NYSE: KO) margin of a mere 3.52%.
FIZZ has issued two special dividend payments since 2016 to reward shareholders, both clocking in at $1.50 a share.
We don't see any end in sight for this company's potential, either. LaCroix has taken over the "healthy" beverage market as more and more Americans have turned away from sugary sodas and artificial sweeteners.
LaCroix - which boasts no sugar, artificial sweeteners, or calories - cashed in through a clever social media campaign in 2010 and hasn't looked back since.
As the sparkling water has caught on with everyone from millennials to health-conscious consumers, you're sure to see cans of LaCroix at every pool party and beach cooler this summer.
That's why Susquanna Financial Group just upgraded FIZZ to a "Buy," with a price target of $156 a share. That's a 61% projected gain from today's price of $96.73.
We agree. FIZZ boasts a perfect VQScore of 4, making now the best time to buy.
But don't stop there. You can make even more lucrative gains by getting in early on the next big thing...
The World's Greatest Stock Picker Recently Revealed His Latest Play
In the last year alone, this man's followers had the chance to close out mind-boggling peak gains, like...
334.2% on Boeing...
448.3% on Micron...
1,331.2% on Nvidia...
469.69% on Advanced Micro Devices...
400.21% on NXP Semiconductors...
343.15% on NetEase...
That's just to name a few. In just the first five years of his service (2011 to 2016), he identified over 217 double- and triple-digit winners... that was an average of almost four double- or triple-digit winners every single month.
And he recently revealed his latest potential moneymaking play exclusively with a small group of his readers. Click here to learn more.