Last month, Congress caved to the big banks on Wall Street and let them go right back to the risky, speculative gambles they were making when they collapsed the economy in 2008.
And it could lead to the next financial crisis.
According to Money Morning Capital Wave Strategist Shah Gilani, we shouldn't be surprised.
"It's no surprise that Congress is pushing bank deregulation," Gilani said. "After all, it's a midterm election year, and both parties want bank and financial services money directed their way."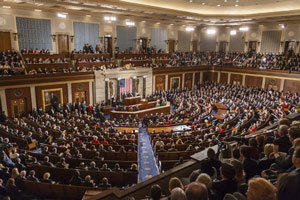 However, you don't have to be a victim.
In fact, you can even profit from the looming disaster. Shah has identified a key way to protect your profits when the turmoil hits, and he's sharing it with Money Morning readers.
Here's how...
Legislative Repeal Has Put the Banks in Charge - and Profits at Risk
On May 24, U.S. President Donald Trump signed into law a bill designed to remove the safety rails preventing our financial system from going off the road.
Known as Economic Growth, Regulatory Relief, and Consumer Protection Act, this bill removes a statute instituted by the 2010 Dodd-Frank Act labeling banks with more than $50 billion or more in assets as "systemically important financial institutions." Under the Dodd-Frank provision, banks are required to keep enough cash on hand to cover the bank's debt should the need arise.
The federal repeal of this measure raises the qualification of "systematically" important from $50 billion to $250 billion - a 500% increase. As a result, it reduced the number of "systemically important" banks from 38 to a grand total of eight. These 30 other banks maintain a combined $5.3 trillion in assets - 25% of all of the assets of the financial sector.
You Must Act Now: America is headed for an economic disaster bigger than anything since the Great Depression. If you lost out when the markets crashed in 2008, then you are going to want to see this special presentation...
For Shah, this is where the real danger lies. Allowing 30 of the nation's largest banks to freely invest without having a plan to cover their debts can only lead to trouble.
"The problem with deregulating big banks and financial services companies, which are essentially shadow banks, is that they compete against each other and constantly need to increase the scale of everything they do in order to grow revenue and profits to be able to compete," he says.
"With increasing scale a necessity and banks given leeway to get bigger while lightening their regulatory burdens, it's just a matter of time before their drive for revenue and profits manifests outsized schemes to meet financial goals."
In fact, Shah sees clear signs that this is already happening.
The financial industry's average return on equity (ROE) this year is 14% - already 3% higher than the average ROE before the 2008 financial crisis. And the current ROE is growing at an average rate of 28%. That sort of growth that is likely to be unsustainable and dangerous for the economy.
According to a report from McKinsey & Co., banks are generating ROEs not seen since 2008. While these returns have been easy to produce on the back of a roaring economy, the probability of sustaining these returns into the future is incredibly unlikely.
According to Shah, the low economic growth, economies of scale through digitization, and the threat of disintermediation featured in McKinsey's report are warning signs for the future of the financial sector.
As banks struggle to maintain their profits, they're bound to resort to dangerous financial practices, setting the stage for the next financial crisis.
Thankfully, Shah has a great way for you to hedge your investments and insure yourself against the fallout.
In fact, Shah's method could help you make a killing even as Wall Street goes under...
How to Profit from the Next Financial Crisis