Last week, I showed you the results of a quick study I did on the performance of Nasdaq 100 stocks when the CBOE Volatility Index (VIX) falls below 15.
The results were surprising - even to me.
While I expected some strength in the group, I was blown away by the average 37% return in the 14 months between December 2016 and February 2018.
I promised you some tickers - top performers from that studied group that have done very well of late and should continue to outperform.
Buckle up: Here they are...
[mmpazkzone name="in-story" network="9794" site="307044" id="137008" type="4"]
Investors Aren't Looking at These Stocks Correctly
First up is Expedia Group Inc. (Nasdaq: EXPE), the online travel company that owns such subsidiaries as HomeAway and Trivago.
EXPE shares are up only 5% for the year, but that barely scrapes the surface. The real deal: This company has been on a five-month, 27% rally off a post-earnings low in February.
You Have to See It to Believe It: Chris Johnson is the Night Trader, and his most powerful tool tells him exactly which stocks are set to go up tomorrow, the next day, the day after that, and beyond. And it is rarely ever wrong. Click here to learn more...
During that rally, the stock has soared above all potential moving average resistance and moved above the Feb. 9 earnings gap.
What's more, the 50-day moving average has been pointed higher for more than two months and is on the verge of a "golden cross" above the 200-day trendline, a very bullish signal.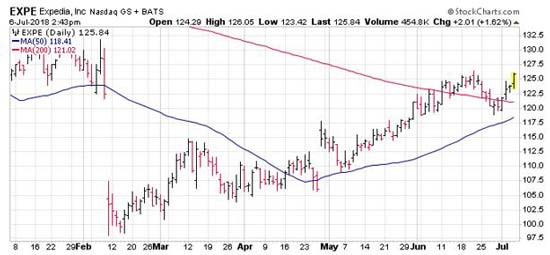 Despite the intermediate-term technical strength, short interest on Expedia has been on the rise. We've seen this a lot lately; absolutely baffling levels of short interest in companies that are breaking out.
No need to spend mental effort understanding why so many short sellers are piled in - a short squeeze adds up to lots more money for us.
In fact, the short-interest ratio (the number of shorted shares divided by the average daily volume) is around 9.0, which is well north of the 6.0 threshold that makes a stock vulnerable to a short squeeze.
This is why EXPE shares' strength should continue.
I'm targeting a move to the $133 to $135 area, the site of Expedia's 2018 high. To leverage the move with options, I suggest the at-the-money EXPE Sept. 21, 2018 $125 call (EXPE180921C00125000).
I've got another moneymaker for you:
This stock is BioMarin Pharmaceutical Inc. (Nasdaq: BMRN), a biotech firm that develops therapies for serious and life-threatening diseases.
BioMarin is similar to Expedia in that neither has outperformed the broader Nasdaq in 2018, although BioMarin is up around 10% for the year.
But the stock has been a monster during the past three months.
Since a low on April 6, BioMarin has advanced nearly 30%, more than double the return of the Nasdaq.
The surge has been flawlessly guided by the tandem support of the 20-day and 50-day moving averages.
Plus, the 50-day crossed above the 200-day moving average last month, which underscores the stock's strength. And to put an exclamation point on the technicals, all three trendlines are rising.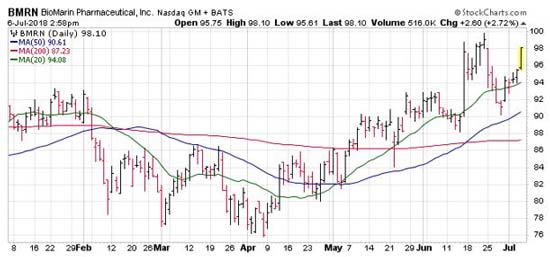 Once again, the key to my bullish take on BioMarin lies in the short-interest ratio, which stands at a robust 8.5. Despite the huge three-month rally, the shorts are hanging in there. That means there is plenty of pent-up buying power waiting to be unleashed through short covering should the current uptrend continue.
My initial target calls for BMRN shares to blast through their 2016 high around the $102.50 level. That should clear the way for an eventual move to the neighborhood of $110 to $115.
With earnings expected the first week of August, I'm looking at an October expiration for an options play, which should give ample time for the expected move to play out. The BMRN Oct. 19, 2018 $100 call (BMRN181019C00100000) fits the bill perfectly.
This Trader Is Betting It All He Can Show You How to Turn $5,000 into AT LEAST $174,500
Chris Johnson is on pace to see 3,390% total winning gains this year.
And now he's guaranteeing his recommendations will give you the chance to do the same.
If not, he's working for free.
So mark your calendar for one year from today...
Set a reminder on your phone...
And click here to learn how to join right now.
Follow Money Morning on Facebook, Twitter, and LinkedIn.
About the Author
Chris Johnson is a highly regarded equity and options analyst who has spent much of his nearly 30-year market career designing and interpreting complex models to help investment firms transform millions of data points into impressive gains for clients.
At heart Chris is a quant - like the "rocket scientists" of investing - with a specialty in applying advanced mathematics like stochastic calculus, linear algebra, differential equations, and statistics to Wall Street's data-rich environment.
He began building his proprietary models in 1998, analyzing about 2,000 records per day. Today, that database, which Chris designed and coded from scratch, analyzes a staggering 700,000 records per day. It's the secret behind his track record.
Chris holds degrees in finance, statistics, and accounting. He worked as a licensed broker for 11 years before taking on the role of Director of Quantitative Analysis at a big-name equity and options research firm for eight years. He recently served as Director of Research of a Cleveland-based investment firm responsible for hundreds of millions in AUM. He is also the Founder/CIO of ETF Advisory Research Partners since 2007, noted for its groundbreaking work in Behavioral Valuation systems. Their research is widely read by leaders in the RIA business.
Chris is ranked in the top 99.3% of financial bloggers and top 98.6% of overall experts by TipRanks, the track record registry of financial analysts dating back to January 2009.
He is a frequent commentator on financial markets for CNBC, Fox, Bloomberg TV, and CBS Radio and has been featured in Barron's, USA Today, Newsweek, and The Wall Street Journal, and numerous books.
Today, Chris is the editor of Night Trader and Penny Hawk. He also contributes to Money Morning as the Quant Analysis Specialist.