As we deal with current market conditions, we're left wondering if we should stay or cut our losses and forsake the market.
August can be a tough time. Volume is low, with all those movers and shakers in the Hamptons instead of on Wall Street. In fact, historically, this is one of the weakest-performing months of the year, particularly for the S&P 500:
August shows gains a measly 43% of the time, the worst rate of any month.
Average returns for August are -0.2%, placing it among the bottom three months.
And since 1987, August has the singular status as being the worst month for the index.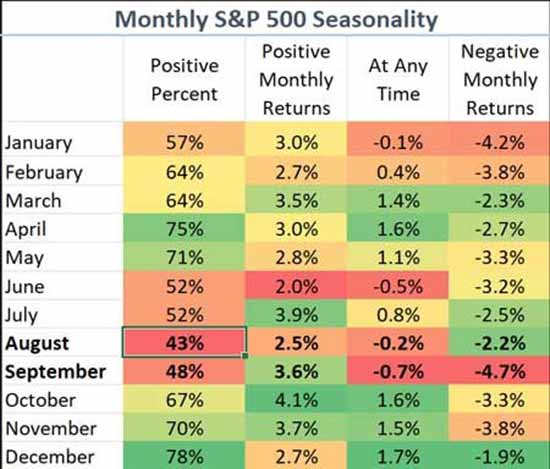 I could go on, but let me give you the "executive summary": August is not a buy-and-hold month.
This is the right way to play it…
Join the conversation. Click here to jump to comments…
About the Author
Chris Johnson is a quant - he's obsessed with building and perfecting mathematical models that allow him to predict, with startling accuracy, the direction of the markets, entire sectors, and individual securities. For the last year, he's been researching and building a new system that lets him move swiftly in and out of the hottest stocks in the market for life-changing gains - entirely on his own terms. The results of his newly-minted Night Trader system are nothing short of amazing.
Chris also contributes to Money Morning as the Quant Analysis Specialist.