Here's a big prediction, straight from my Best in Breed screen: A huge portion of the profits you'll make for the next three months will be in just two sectors – retail and consumer discretionary.
Here's why I know...
See, instead of following overhyped slogans like "Sell in May and go away" - which would have cost you about 8% in returns based on the S&P 500 since May 1 - I prefer to actually look at what the data really says about seasonality. Crazy, right?
The data's telling me that the back-to-school, Halloween, and holiday shopping periods are three of the most fruitful selling seasons for this special group of stocks.
I'm going to let the numbers do the talking...
[mmpazkzone name="in-story" network="9794" site="307044" id="137008" type="4"]
The Charts Don't Lie
The table below shows that since 2000, during the Sept. 1 through Dec. 1 period, the SPDR S&P Retail ETF (NYSEArca: XRT) and the Consumer Discretionary Select Sector SPDR ETF (NYSEArca: XLY) are two of the top three performers, both in terms of absolute return and relative strength against the S&P 500.
Last year, for example, XRT and XLY gained 11% and 8% respectively during this period, while the S&P 500 managed a respectable 7% return.
The Night Trader's Secret: A former Wall Street insider just revealed a new strategy for executing night trades that could set you up for potential $850, $2,250, or $6,775 paydays - overnight. Click here.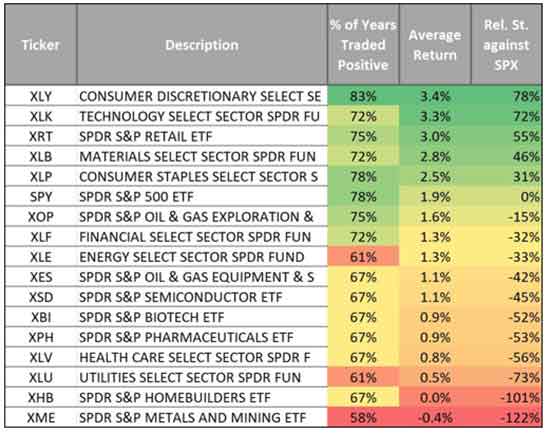 So why the outperformance?
Well, I see this as a "buy the rumor, sell the news" type of situation. Around the beginning of September, investors buy into the upcoming holiday shopping season, expecting these stocks to get a boost from sales results.
This bullish period ends around Dec. 1, when investors sell out of the trade to lock in profits as Black Friday results come pouring in.
In fact, the broader market tends to catch up with the retail and consumer discretionary sectors in December, as the "Santa Claus rally" often kicks in for the S&P 500. That's when seasonality usually shifts to favor banking and regional banking stocks.
While you might think the holdings of these two sectors overlap such that investing in one could cover both sectors, once again, a check of the facts says otherwise. While there is some duplication in lower-weighted holdings, not one stock can be found in either exchange-traded fund's (ETFs) 10 largest holdings. So I'd play both to maximize the clear seasonality strength.
Let's briefly look at each fund.
Here's a Peek Under the Hood of These Profit Machines
XRT is an equal-weighted ETF, as its top 10 holdings - which include SUPERVALU Inc. (NYSE: SVU), Rent-A-Center Inc. (Nasdaq: RCII), and Rite Aid Corp. (NYSE: RAD) - comprise less than 15% of total assets. Since the April 2 low, XRT has been a beast, driving 20% higher. In contrast, the S&P 500 is up 12% during the same period.
XRT is pulling back a bit from last week's all-time high just below the $53 level. But all pullbacks of the past several months have been well supported by the tandem efforts of the 20-day and 50-day moving averages.
What's more, XRT has a composite short-interest ratio of 7.4, the third highest of all the ETFs I track. My readers know I love high short interest, because it typically unwinds into buying pressure when the shorts are squeezed out of their positions by a strong uptrend (like we're seeing with XRT now).
Critical: A breakthrough technology could disrupt every major industry, and one tiny company is at the center of it all. Its stock is trading for less than $10 now, but it could deliver a 471.9% gain for early investors. Learn more...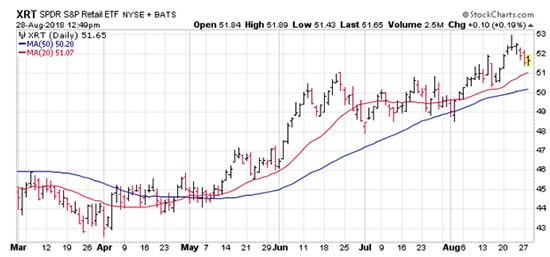 While XRT has fewer headline-grabbing names, XLY is on a completely different path. The top 10 stocks comprise more than 60% of the total assets, led by Amazon.com Inc. (Nasdaq: AMZN), which commands nearly 25% of the ETF. Other top-10 holdings include heavyweights Netflix Inc. (Nasdaq: NFLX), McDonald's Corp. (NYSE: MCD), and Walt Disney Co. (NYSE: DIS).
XLY's chart is similar to that of XRT, with a gain of just under 18% since April 2. Likewise, support from the 20-day and 50-day moving averages is in play, leading the ETF to another record high today. In fact, XRT hasn't closed a day below its 50-day since early May.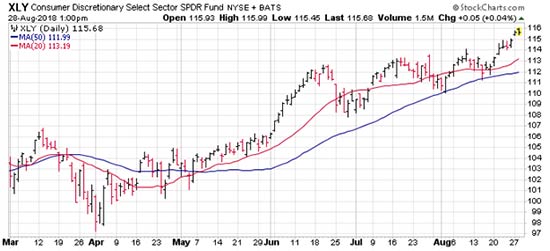 With Sept. 1 right around the corner, I'd jump aboard these sectors this week and ride the seasonality wave for the next three months. If you'd like to leverage the expected move with options, I suggest the XLY at-the-money $115 call that expires on Jan. 18, 2019.
Later this week, I'll follow up with two Best in Breed stocks from these juicy sectors. I'll see you then.
This Trader Is Betting It All He Can Show You How to Turn $5,000 into AT LEAST $174,500
Chris Johnson is on pace to see 3,390% total winning gains this year.
And now, he's guaranteeing his recommendations will give you the chance to do the same.
If not, he's working for free.
So mark your calendar for one year from today...
Set a reminder on your phone...
And click here to learn how to join right now.
Follow Money Morning on Facebook, Twitter, and LinkedIn.
About the Author
Chris Johnson is a highly regarded equity and options analyst who has spent much of his nearly 30-year market career designing and interpreting complex models to help investment firms transform millions of data points into impressive gains for clients.
At heart Chris is a quant - like the "rocket scientists" of investing - with a specialty in applying advanced mathematics like stochastic calculus, linear algebra, differential equations, and statistics to Wall Street's data-rich environment.
He began building his proprietary models in 1998, analyzing about 2,000 records per day. Today, that database, which Chris designed and coded from scratch, analyzes a staggering 700,000 records per day. It's the secret behind his track record.
Chris holds degrees in finance, statistics, and accounting. He worked as a licensed broker for 11 years before taking on the role of Director of Quantitative Analysis at a big-name equity and options research firm for eight years. He recently served as Director of Research of a Cleveland-based investment firm responsible for hundreds of millions in AUM. He is also the Founder/CIO of ETF Advisory Research Partners since 2007, noted for its groundbreaking work in Behavioral Valuation systems. Their research is widely read by leaders in the RIA business.
Chris is ranked in the top 99.3% of financial bloggers and top 98.6% of overall experts by TipRanks, the track record registry of financial analysts dating back to January 2009.
He is a frequent commentator on financial markets for CNBC, Fox, Bloomberg TV, and CBS Radio and has been featured in Barron's, USA Today, Newsweek, and The Wall Street Journal, and numerous books.
Today, Chris is the editor of Night Trader and Penny Hawk. He also contributes to Money Morning as the Quant Analysis Specialist.