Brick-and-mortar stores aren't dead yet, but retail companies need to think outside the box if they want to remain profitable in the era of online shopping.
Fortunately, we've found one company doing exactly that...
Few Americans are willing to pack up the kids in the SUV, drive three miles to a strip mall, and pace the aisles in search of a bargain.
Especially when you can find just about anything you want in the Amazon.com Inc. (NASDAQ: AMZN) search bar.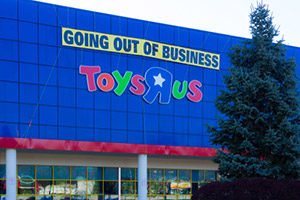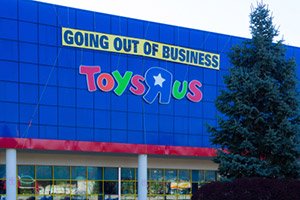 E-commerce has manufactured the bankruptcy of hundreds of retail companies, most recently the iconic children's company Toys "R" Us.
But Americans will still spend the day at a physical store for an experience. They still want to see displays, test out gadgets, and try things on.
And one company - which just hit our "Buy Zone" - created a bold strategy to fill a serious need after Toys "R" Us closed for good.
Let's take a look at the company ready to grab a piece of the global $88.8 billion toy market...
Filling the Void of Toys "R" Us
Toys "R" Us controlled 15% of the U.S. toy market and raked in highs of $7 billion a year in revenue up until its demise. Mounting debts and shifting demographics sank the iconic toy seller.
Billions Are Now in Play: Millions of Americans could collect "Federal Rent Checks" - to learn how to claim your portion of an $11.1 billion money pool using this backdoor investment, click here now...
Toys "R" Us had a whopping $5 billion in liabilities on its balance sheet when it finally filed for Chapter 11 in September 2017.
No silver knight was coming to save the day with that kind of balance sheet.
But the global toy industry is still worth $88.8 billion, and with Toys "R" Us gone, there's a void in the market...
And that brings us to our top pick in this space: Party City Holdco. Inc. (NYSE: PRTY).
In June, Party City announced it will roll out 50 temporary Toy City pop-up stores by the end of September.
And the strategy is going to make selling toys profitable for Party City...
Party City isn't signing long-term leases or buying property. It's tapping into attractive "leasing opportunities" that allow them to target specific, favorited markets it knows will be profitable.
These pop-up stores will only operate between the months of September and December - at the height of the holiday shopping season.
Once the Halloween and Christmas seasons are over, Party City can pack everything up and sell leftover merchandise next year. It isn't stuck with utility bills, payroll, and monthly rent when things get slow.
But there are other intriguing elements that make Party City a company worth your consideration.
For example, take its vertical integration strategy that reduces its reliance on outside suppliers and volatility in the global trade markets.
Roughly 80% of the company's revenue is made on products that it either directly manufactures or it sources internally. This reliance on its own private-label products ensures that it doesn't face any supply chain disruptions - and there aren't any surprise price hikes to rattle investor sentiment.
While trade wars are disrupting the global shipping industry and pushing up prices on imports, PRTY shareholders don't have to worry.
And the metrics we uncovered suggest Party City is a screaming buy right now...
Why Party City Should Be in Your Portfolio