Everyone knows the risks of investing in penny stocks, but there's no denying they can also create life-changing wealth.
Just ask shareholders of Alexion Pharmaceuticals Inc. (NASDAQ: ALXN)...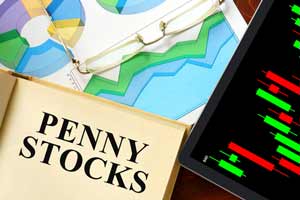 On Sept. 24, 2002, ALXN was trading for just $2.78 per share. Today (Oct. 10), the Alexion stock price opened at $129.56 per share.
It took some time, but early investors have cleaned up with a 4,560% return.
That means for every $1,000 invested, you would have made roughly $45,000.
And that's just one example of stocks trading under $6 making people wealthy...
On April 23, 2003, you could have bought shares of Regeneron Pharmaceuticals Inc. (NASDAQ: REGN) for $5.87 per share. If you still owned it this morning, you would have a big smile on your face when you saw shares opening at $390.60.
It took 15 years, but no one would complain about a 6,554% return.
How to Profit off This $11.1 Billion Money Pool: By following a few simple steps, one IRS directive could help set you up to receive checks of up to $1,795 every single month thanks to a genius investment. Learn more...
Every $1,000 invested in REGN back in April 2003 would now be worth roughly $65,000.
Every $10,000 would be worth $650,000.
You get the picture.
Of course, you're not always going to hit it out of the park buying penny stocks, and you should never risk money you can't afford to lose.
If you invest in a penny stock, you have to be comfortable with the idea of never seeing your hard-earned money again.
If you understand the risks, then we wanted to share a potential profit opportunity that could yield a 600% return.
And that's just in the next 12 months.
You see, analysts believe this Chinese penny stock could go vertical as it taps into one of China's most lucrative markets...
One Chinese Penny Stock to Watch for the Rest of 2018