Marijuana legalization is on a roll. The movement continues to gain momentum with Canada completely legalizing cannabis this week and with eight states voting on legalization this fall.
Even still, many observers might think marijuana legalization is a fringe issue promoted by recreational users.
But they would be wrong. And it could cost them money. In reality, CBD is one of the biggest beneficiaries of the cannabis movement, and it has serious mainstream potential…
Why CBD Is One of Cannabis's Major Success Stories
Cannabidiol, or CBD, is a non-intoxicating compound found in cannabis, and it is being used to treat everything from anxiety to epilepsy.
CBD helps relax people, reduces inflammation, eases pain, and can potentially treat many diseases, including chronic traumatic encephalopathy (CTE), which is a big issue with NFL football players.
Don't Miss: On Tuesday, October 23rd, We're Making History – America's First-Ever National Cannabis Summit 
Both CBD and its intoxicating cousin THC work with receptors in the human (and mammalian) nervous system. These receptors are not-coincidently part of the endocannabinoid system (ECS), which regulates day-to-day bodily functions. When the body does not produce adequate amounts of its own ECS neurotransmitters, compounds from the plant supplement what is already there.
And its popularity as a treatment continues to grow alongside cannabis legalization.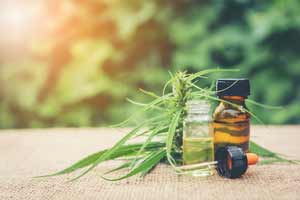 In fact, as the full health effects of CBD and other cannabinoids become known, the regulated pharmaceutical market will be unimaginably large – $50 billion, $100 billion, or more.
Research already shows that cannabinoids are identical in action to what our bodies produce. They also believe that as we age, there is a decline in the ECS. This may lead a host of currently unaddressed medical conditions.
But the advantages of CBD and cannabis-derived medicines aren't just theoretical – some of the biggest companies in the world are diving in…
Major Companies Are Already Jumping on the CBD Wagon
There's no limit to the ways we can take CBD, and plenty of companies – from start-ups to established brands – are getting in on the action.
As the industry matures, we will be able to drink it, eat it, rub it on in a lotion, take it as a pill, or wear it as a patch. And in many cases, it is much safer than drugs used to treat similar ailments, especially opioids for pain.
For everyday consumers, CBD is already available in calming gummies, soothing massage cream, hemp oil capsules, infused coffee, and vaping supplies. There are even products for pets.
People will be buying them at big-box discounters like Costco, grocery stores, health food stores, drug stores, and more. This is why it is front and center on the radar screen of Money Morning Director of Cannabis Investing Research Greg Miller.
And pretty soon, you might find CBD in your favorite beverage…
Coca Cola Co. (NYSE: KO) announced it was looking for a partner cannabis company to help develop a CBD-infused health drink. Beer and spirits maker Constellation Brands Inc. (NYSE: STZ) is also partnering with cannabis companies to develop a CBD beer.
While big companies like these are making moves in the field, looking to acquire existing cannabis players, Miller thinks that smaller companies are just now finding market penetration thanks to constantly improving consumer sentiment and education.
Most of them aren't yet on the radars of big beverage, big pharma, or big alcohol yet.
But you'll know exactly where to look to find CBD stocks as the cannabis movement gains steam when you have access to experts like these…
America's Great Green Gold Rush Is Just Getting Started