The best tech disrupters aren't always creating futuristic new gadgets or breakthrough technologies. Sometimes they take existing technology and apply it to old problems.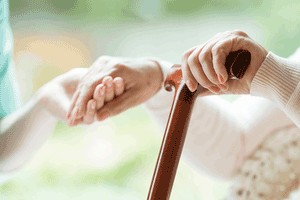 Our pick today has done just that. It's used the power of the Internet, smartphones, and social media to transform the family caregiving industry.
That's a sector with $330 billion in annual spending in the United States alone.
As a number of our investment experts have written, demand for senior care is set to rise drastically over the next 10 to 20 years.
The rise of two-worker and single-parent households has also driven demand for childcare.
Busy lifestyles and increased travel means people need help with pet care and housekeeping.
And parents who can afford to give their children better lives are increasingly opting for tutoring and dedicated special needs care.
Of the 48 million households making up the target market for caregivers, more than 95% are still turning to newspaper ads, referrals, online classifieds, and agencies.
The first three options can be unattractive due to their lack of scale, safety, and reliability. And the only way to get around that is to shell out thousands of dollars for an agency – not a viable option for many.
So one company stepped in to solve the problem…
Its platform has connected over 12 million care professionals with over 16 million families worldwide. It now spans 20 countries and 90% of U.S. zip codes.
Exclusive Rebroadcast of the First-Ever American Cannabis Summit: Click Here to See How to Conquer America's Most Controversial – and Lucrative – Industry…
Requests for professionals come with a guaranteed response within three days. The professionals are vetted by the service and rated by members, and they can always be held accountable.
And it's inexpensive too. Typical fees run $200 or less per year, compared to as much as $4,000 for an agency. That's because the costs are spread out among a large network of users rather than an exclusive, affluent client base.
It's still in the intermediate stages – the company was only founded in 2007 – but it is just now taking off. Sales are rising by double-digit percentages each year, and earnings per share (EPS) more than tripled in 2017.
As we'll explain, this is one that could give you a quick pop early on and then offer returns for years to come.
Now Out of Silicon Valley's Blind Spot, This Company Is Shifting to the Fast Lane
Join the conversation. Click here to jump to comments…
About the Author
Stephen Mack has been writing about economics and finance since 2011. He contributed material for the best-selling books Aftershock and The Aftershock Investor. He lives in Baltimore, Maryland.