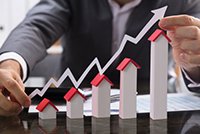 The formula for getting rich is pretty simple: Generate higher returns in the shortest time frame possible without taking risks that can decimate a portfolio.
Over a long period of time, gaining a few percentage points per year in one asset class over another is a really big deal.
Compound returns are the difference between success and failure as an investor.
Since 1980, Real Estate Investment Trusts (REITs) have generated annualized returns of 11.61%, compared to just 8.39% for the S&P 500.
In dollar terms, $10,000 invested in REITs resulted in a windfall of nearly $400,000.
What could you do with an extra $400,000?
Quite a bit I suspect.
The real kicker is when you consider that many investment professionals expect the S&P 500 to yield in the low single digits for the foreseeable future.
Even if REIT returns yield below the historical average in the near term, it will still be ahead of the stock market.
The Gains on This One $10 Stock Alone Could Earn You Enough to Retire - Click Here Now for Details
And what happens if the stock market has entered a long-term bear market?
Then, as many say, the place to protect capital will be real estate and, by default, REITs.
With a plethora of REITs trading in the market today, there are no shortages of choices for investors looking for exposure in the space.
Perfect enough, the Money Morning Stock VQScore™ just alerted us to three REITs that recently earned our highest rating.
These are the three best REITs you can buy today...
The Best REITs to Buy Now: No. 3