Money Morning readers tell us they are worried about a recent spike in market volatility, especially with stocks taking a beating over the last week.
Fortunately, we have tools that can tell us whether volatility will continue to rise like it did in February or if we're due for another low.
Most of us think volatility means danger for investors. After all, when the Dow swings hundreds of points higher and lower in the same trading session, it is very hard to know what to do.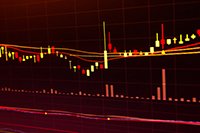 But volatility is not necessarily evil.
If fact, without volatility, stocks would not move, and no one would make any money. The idea is to understand that volatility is not out to get you. In fact, with the right tools, you can use it to make a fortune on stocks.
Let's first define what volatility really is.
And then we'll show you a tool we can use to predict whether stock market volatility will get worse or better in 2019...
Why Rising Volatility Has Traders Nervous
Volatility, or "historical volatility," is defined in the statistics books as the variance between stock prices and their average price. This is because it uses an average price calculated from past, or historical, prices. For example, the calculation can use data from the past 20 trading days.
Myth Busted: The biggest myth in all of investing could be costing you THOUSANDS. It doesn't matter what the markets do next - as long as you see this.
Don't worry about the hard-core math and statistical terms like variance and standard deviation. The only thing to worry about is how far the price of your stock moves from its average price. The more it moves away from that average, the more volatile it is. And the more volatile it is, the more likely it will make a big move over time.
Of course, the more it moves, the more profits - and losses - it can deliver.
The risk is that we don't know which way it will move when it does, which is exactly why rising volatility has traders and investors alike squirming.
The other type of volatility is called "implied volatility," and it's a bit more complicated. It's derived from options pricing, where the current options prices, strike prices, and time to expiration come together to tell us what the volatility must be.
In other words, if the spread of shorts and calls being placed on stocks grows, then it implies volatility is rising.
Implied volatility is the basis for the CBOE Volatility Index (VIX). The VIX looks at near-the-money S&P 500 options' implied volatility and massages them to create the VIX value.
Low levels of VIX suggest low volatility, and usually that means low levels of fear in the market. Investors are not willing to pay up for options protection.
Conversely, high levels of VIX suggest more fear. And really high levels suggest extreme fear, if not panic.
With the VIX rising since October, traders are concerned about what it means for future stock prices.
If the VIX keeps rising, then stocks could enter a bear market. Or worse.
And if the VIX settles back down toward 2018 lows, then we could see a renewed rally in stocks.
Fortunately, there's a tool we can look at that will help us know which direction the VIX will head next.
Armed with this one little tidbit of market knowledge, you can make a tidy profit, whether it's trading VIX options or knowing when to add stocks to your portfolio or get defensive.
And right now, it's showing us that the Wall Street pundits have it all wrong...
Your Secret Weapon to Profit from Volatility