After nearly a decade-long bull run – the longest bull market ever – the recent stock market turbulence has investors preparing for the worst. But some moves they're making right now could backfire in a big way…
Markets plunged into correction territory in December, giving stocks their worst year since the 2008 crash while volatility shot up to a five-year high.
If you're nervous about the direction stocks could head in 2019, we don't blame you. After all, investors have some important decisions to make. Maybe it's time to buy defensive stocks or add trailing stops, maybe you want to rebalance your portfolio toward bonds, or maybe you're looking to scoop up some of the best companies in the world at bargain basement prices.
One of the worst cases of overreaction to this market we've seen sent Apple Inc. (NASDAQ: AAPL) tumbling nearly 40% between October and the start of the New Year. One of the world's richest companies certainly didn't become 40% less valuable overnight.
But while these are all good strategies to consider during turbulent times, investors are still making one crucial error…
What Not to Do to Protect Your Money
Investors are currently flocking to passive ETFs at the worst time.
Take a look at this chart of the cash flows into and out of high-yield funds captured by Credit Suisse. High-yield investors are fleeing into passive ETFs and out of actively managed funds at exactly the worst time.
The exodus began in 2014, but it's really heated up over the last two years. Now more than $20 billion is flowing out of active funds and into passive funds.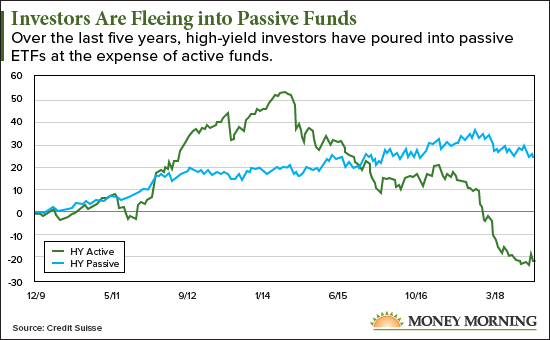 While that's just a snapshot of high-yield funds, passive investing's overall popularity has never been higher. Index funds are now worth over $6 trillion and control nearly 20% of U.S. stocks.
The reason for the popularity of ETFs makes sense. It's hard to beat the market, so why not just match the market?
And that might work well when stocks are going up. All passive investors had to do over the last five years is own the SPDR S&P 500 ETF (NYSE Arca: SPY) and they'd be up 40%. No work required.
But nearly 10 years of a bull market run can make investors awfully shortsighted.
Imagine if you were fortunate enough to have seen the writing on the wall before the 2008 financial crisis. You knew the housing market was a house of cards. And after five years of gains, you sensed the bull market was getting stale. So you decided to go passive before the fallout and poured your portfolio into SPY in October 2017.
Maybe that sounds savvy. But you'd have lost 53% of your money in a matter of months. And the historic rally after the crash wouldn't have saved you either. Your ETF would be up about 54% since then, while the market rocketed 250% higher since the low point in 2008.
The preachers of the passive investing gospel leave out that part of the story.
Compare those results to an actively managed fund during the same time.
The Fidelity Select Biotechnology Portfolio (MUTF: FBIOX), one of the top actively managed funds according to Morningstar, saw a brief 20% decline during the worst of the crash, but it's up 160% since then. You would've had a lot less risk and three times the upside thanks to active management by owning FBIOX.
Yet that's just the opposite of what investors are doing right now.
Now, I'm not saying to run out and buy a mutual fund. That 160% return doesn't factor in the cost of owning a mutual fund, either.
But it does show investors how actively managing their money can limit losses and grow profits, even during the worst of times. And it doesn't require an MBA or eight hours a day in front of a computer screen either.
It's as simple as knowing which stocks to buy and hold.
Start with the GDL Fund (NYSE: GDL), a closed-end fund focused on investing in companies offering extreme value through mergers or restructuring. By swooping in and buying solid companies in the middle of transitions, GDL has the potential to pocket quick short-term profits.
And it trades at an 18% discount to its net asset value. In other words, the fund's holdings are worth more than what you'd pay to own the stock. That won't last long.
Finding that sort of value is exactly how an active manager would skirt the risk of rising volatility. But it gets even better…
GDL has $60 million in cash on hand and is ready to deploy it as new deals open up. In fact, the fund's manager, Mario Gabelli, is one of the most famous dealmakers on Wall Street, and his team includes 2018 Nobel Prize winner Richard Thaler.
Rest assured, Gabelli's team is ready to pounce as this turbulent market creates new opportunities to exploit (and as traders sell their valuable assets to move into passive funds).
You get access to that world-class investment team at a near 20% discount right now, plus a 4.32% dividend yield.
Strategies like this are essential to keep your portfolio in the green during volatile times, and it's just one of many ways Money Morning Special Situations Strategist Tim Melvin is unlocking profits right now…
The Hidden Key to an Undefeated Track Record
In this must-see footage, one man is revealing the key to exactly how he's closed out 32 winning trade recommendations IN A ROW…
… how he averages a 70% profit on each of his closed trade recommendations…
… and most importantly, how you could NEVER have to lose money on a stock again – and become filthy rich in the process.
Follow Money Morning on Facebook, Twitter, and LinkedIn.