The latest Tesla earnings report is due out on Wednesday, Jan. 30, and it could be a pivotal day for the company.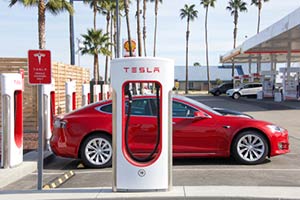 Despite reporting a profit during its Q3 earnings last quarter, the company has taken a series of hits leading up to its Q4 earnings report.
Last week, Tesla Inc. (NASDAQ: TSLA) slashed its earnings forecast for the fourth quarter and announced plans to cut its workforce by roughly 7% and cut car prices by $2,000 to drum up demand.
The news sent the company's stock down over 13% in just one trading session, as investors worried about Tesla's future. Then, RBC Capital downgraded the stock this week, sending shares down another 2%.
That's setting the stage for Q4 earnings. Will Tesla report a second straight quarter of profits, or will weak guidance sink the stock even more?
But this earnings report won't be the bombshell many investors expect it to be.
You see, Tesla is on the verge of a revolutionary transformation - one that could push the company's stock to new highs...
Tesla Auto Is Just the Tip of the Iceberg
In his letter to shareholders earlier this month, Tesla CEO Elon Musk said Tesla faces an uphill battle in making its products accessible to the general market.
"We face an extremely difficult challenge: making our cars, batteries, and solar products cost-competitive with fossil fuels," he wrote. "While we have made great progress, our products are still too expensive for most people."
THREE STOCKS: Any one of these cannabis companies could potentially deliver a 1,000% windfall. Click here to learn more...
While Musk's public acknowledgement of Tesla's production woes is important, the real news here comes from his mention of "batteries and solar products."
While Tesla has traditionally framed itself as a competitor to the auto industry, its real market competition is the fossil fuel industry at large.
According to Money Morning Chief Investment Strategist Keith Fitz-Gerald, Tesla's real value isn't as a car company, but as a global energy company.
According to Keith, "The fact that Musk is involved in so many things is precisely the attraction here and why savvy investors would be wise to pay attention. Musk wants to redefine the electric grid and with it, the world's energy supply."
This isn't a new track for Tesla either. It's been slowly building up its role as an energy company for years.
In 2015, Tesla announced the launch of the Tesla Powerwall, a "rechargeable lithium ion battery with liquid thermal control" that can be installed in homes and provide energy for nearly two days during a power outage.
In May 2016, Tesla began accepting preorders for "solar tiles" - solar panels that could be installed as roof tiles on homes.
This was followed by Tesla's acquisition of one of Musk's other ventures, Solar City, an industrial manufacturer that specializes in the production of solar energy devices.
Over the last two years, Tesla has used Solar City's manufacturing base to increase production of the company's solar panels and make large-scale distribution a reality.
And just last year, Tesla partnered with Home Depot to install 800 selling spaces in the home improvement company's stores.
The areas, staffed by Tesla employees, will demonstrate the daily capabilities of Tesla's solar panels and the Powerwall to prospective customers.
In other words, Tesla's real profit potential is as a one-stop shop for energy, not as a car seller. You could power your home with Tesla's solar shingles, store the energy in your Tesla home battery, and charge your vehicle with the battery. Consumers could completely disconnect from the fossil fuel industry and local power companies.
However, the biggest development in Tesla's quest to provide renewable energy solutions on an industrial scale came just earlier this month...
[mmpazkzone name="in-story" network="9794" site="307044" id="137008" type="4"]
On Jan. 7, Musk broke ground on Tesla's third Gigafactory. Placed just west of Shanghai, the new 860,000-square-foot facility is intended to help Tesla directly enter into China's auto and energy industries.
According to Musk, Tesla's latest factory will allow the company to tap into "a market that is critical to Tesla's mission to accelerate the world's transition to sustainable energy."
It's clear that Tesla's energy developments not only overshadow Tesla's auto production woes - they are clear indicators that the company's future is in revolutionizing how people access and consume energy.
Wall Street continues to overlook the world's next great energy firm, but you can pick up shares while investors overreact to the RBC downgrade.
However, this isn't the only profit trend Money Morning is tapping into...
America's Green Gold Rush Is Just Getting Started - Claim Your Stake Now
At this very moment, big investment firms and members of the Fortune 500 are building enormous war chests.
They're preparing to push billions upon billions of dollars into the cannabis market - and they could strike at any moment. So right here - right now - you have a once-in-a-lifetime opportunity to beat them to the punch and stake your claim.