The price of silver enjoyed a bullish uptick over the past week, so any pullback now should come as no surprise.
In fact, silver prices rallied 5.7% in the last 10 days of January, and a stunning 15.3% from mid-November.
A near-term consolidation in silver prices would not only be expected, it will be healthy as such dramatic gains are digested before the next move.
I fully expect that move to be higher for a number of reasons.
First, the U.S. dollar is behaving like it has topped and has begun trending downward.
Fundamentally, silver's been in a deficit since 2013 - demand has outstripped supply every year since.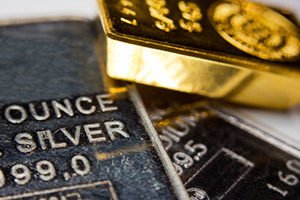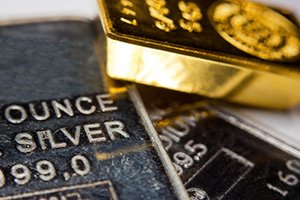 And if we consider the potential for the "January effect," where silver's performance in January could be indicative of its expected performance for the balance of this year, then 2019 looks great.
With the silver price up by 3.55% in January alone, that suggests a potentially bumper year for this precious metal.
Here's a closer look at how the price of silver is trending...
How the Price of Silver Is Trending In February 2019
Silver enjoyed a tremendous past week, running dramatically higher from $15.85 on Tuesday all the way to peaking at $16.15 early on Thursday.
And this happened despite relative strength in the DXY. The market was waiting for the Fed's rate decision and post-meeting statement.
THREE STOCKS: Any one of these cannabis companies could potentially deliver a 1,000% windfall. Click here to learn more...
With a dovish demeanor from the Fed, the dollar took a big hit on Wednesday, with the DXY dropping from 95.9 to 95.3 in the 30 minutes after 2 p.m.
The peak in silver prices this week came Thursday morning at 8 a.m. around $16.15. Then the dollar began a relief rally that took it from 95.25 all the way to 95.85 on Monday.
The price of silver then backed off and began February digesting its impressive January gains.
Friday saw a morning bounce that took gold back up to $16.03 from an overnight low of $15.93.  But profit taking returned, and silver finished the week at $15.91.
On Monday, silver consolidation got a bigger grip as the DXY climbed to 95.85. That pushed the grey metal down to $15.70 at 7 a.m., but it managed to recoup somewhat to close at $15.84.
Now, here is my newest target for the price of silver in 2019...
Here's Where the Price of Silver Is Headed Next
[mmpazkzone name="in-story" network="9794" site="307044" id="137008" type="4"]
Meanwhile, the dollar is still facing headwinds.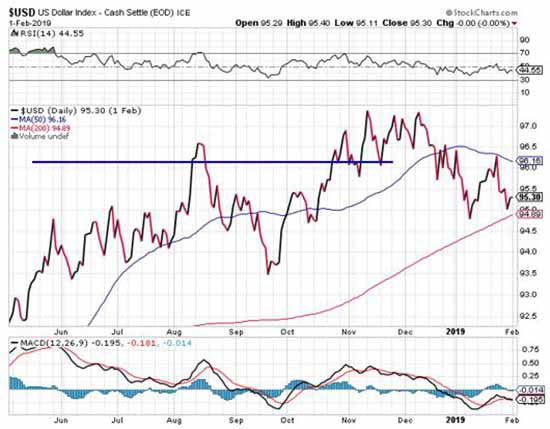 Since its most recent peak just above 96 in late January, the DXY's relative strength index (RSI) has resumed its downward trend, as has the moving average convergence divergence (MACD) momentum indicator.
The 95 level proved to be support, which is no surprise, as it acted as resistance through last summer.
If the DXY should close below 94.8, then we'll have a series of lower highs and lower lows, helping to reinforce the bearish thesis.
Remember, due to the fact that the Fed has completed its reversal from hawkish to dovish on both rate hikes and its balance sheet, odds are good a lower dollar lies ahead.
As for silver, it's been really strong.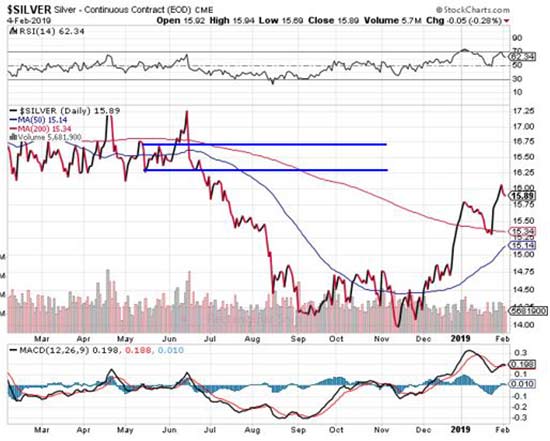 But with the RSI near 70 and a bounce in the MACD, we could be looking at consolidation at least in the near term.
Given that silver has managed to close above $16, odds are good silver could hover near that level. If it should retreat further, I think that $15.50 would offer support.
Remember too that the gold-to-silver ratio, although it's been falling (as I said to expect), is still historically very high.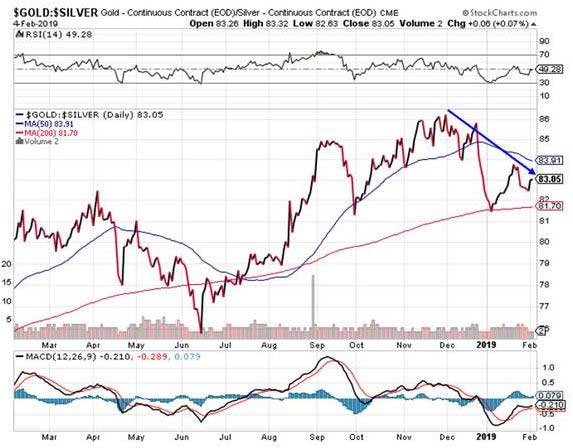 And that bodes well for silver, as it should continue to play catch-up to gold. In a rising gold environment, silver will have a lot higher to climb as it starts to make up for its multiyear underperformance.
According to Societe Generale, some 26,000 tons of silver will be produced in 2019. That's the least since 2013 and extends the annual deficit that's existed for six years.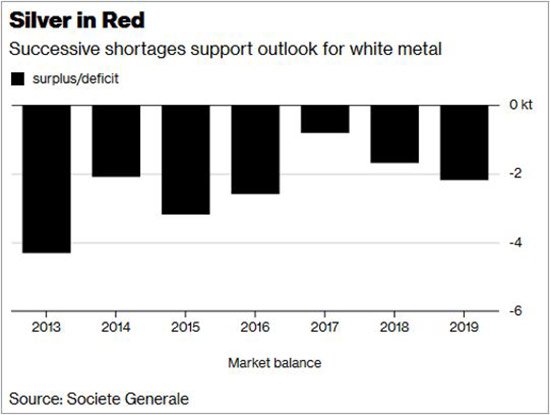 This sort of ongoing shortage as physical demand starts to ramp up could be rocket fuel for silver.
In that light, here's my review of recent silver recommendations.
The 2x leveraged ProShares Ultra Silver ETF (NYSE: AGQ) is now up 3.3% and remains a buy on dips.
The Global X Silver Miners ETF (NYSE: SIL) has jumped 7.1% since I said to buy. SIL is a buy on dips.
The SLV January 2021 calls with a strike price of $15 are now breakeven since recommended. Given their long term to expiration, they too remain a buy on dips.
These 3 Stocks Are the Key to 2019's Greatest Profits
The 2018 midterm election was a turning point for the cannabis industry.
We expect nothing short of historic profits by the end of the year.
But not all pot stocks will hand you life-changing wins. In fact, often the companies making headlines are least likely to see the biggest gains.
These three stocks, on the other hand, are flying under the radar... for now. Each of them could see exponential stock price acceleration at any moment, and if you get in before that happens, you could turn a token stake into a lifetime of wealth.
I don't know of any other sector providing anywhere near this level of growth now.