As we approach the end of the business cycle, investors are looking for the best dividend stocks to buy now to add some extra income to their portfolios.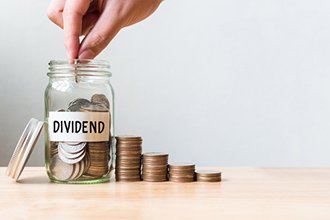 Even if the stock market is volatile, a dividend-paying stock can keep money flowing into your portfolio. And to help you find them, we're bringing you three of the best dividend stocks to add to your portfolio right now.
These income stocks are also real estate investment trusts (REITs). This is important because REITs have produced gains that have outpaced the broader market for over 35 years.
This class of investment has generated 11.61% in annualized returns since 1980. Over that same period, the S&P 500 has produced just 8.39% in annualized returns on average. That helps provide an added cushion if the market drops.
Here are three of the best dividend stocks to buy today...
Best Dividend Stocks to Buy Now, No. 3: Apartment Investment and Management Co.
Interest rates have gone up close to a full percentage point in the past year. That was one of the reasons the stock market closed the year in the red.
But higher interest rates aren't all bad news. Higher interest rates have created positive momentum for rent-based REITs.
Powerful Investment Income Stream: The Treasury is sitting on an $11.1 billion money pool. By adding your name to a special distribution list, you could begin collecting $1,795 or more every month. Get the details...
When interest rates soar, mortgages become more expensive. This means that it's going to cost more to buy and own a home, which drives people to choose to rent rather than buy.
These choices are a catalyst for higher rents and more revenue for rent-based property management firms.
Apartment Investment and Management Co. (NYSE: AIV) is one of the largest REITs that deals with apartments, covering 17 U.S. states and 130 communities.
Because it's geographically diversified, AVI has a portfolio that can shield the company from shifting property values and rental rates in different parts of the country.
In addition to any share price gains investors will receive, AIV also offers investors a 3% dividend yield.
This 3% yield is nearly double the S&P 500 average.
Plus, AIV has a perfect Money Morning VQScore™ of 4, which means that this stock could break out higher soon.
Best Dividend Stocks to Buy Now, No. 2: Sunstone Hotel Investors Inc.
Volatile markets can be the perfect breeding ground for some market-beating gains. You just need to know where to put your investment.
Even with uncertainty in the market, the United States has strong job growth and some of the lowest unemployment levels in four decades. Because of this, consumer confidence is up, and consumers are spending more.
Travel happens to be one of the primary things that Americans like to indulge in when there is cash available. In fact, the nation saw the busiest holiday season in 2018 since 2004.
This means that another profitable dividend stock and REIT is going to be Sunstone Hotel Investors Inc. (NYSE: SHO).
This is a mid-cap REIT investment with 22 major hotels and over 10,000 rooms under its umbrella. Some of the recognizable names include Hyatt, Hilton, and Marriott.
Travel spending is predicted to remain strong this year since the labor market isn't showing signs of contracting. This will ensure that SHO delivers substantial returns to investors.
On top of those gains, this REIT also has a 4.8% dividend yield.
That's extra income right into your portfolio.
But our best dividend stock is even better...
The Best Dividend Stocks to Buy Now
[mmpazkzone name="in-story" network="9794" site="307044" id="137008" type="4"]
City Office REIT Inc. (NYSE: CIO) is one of the top dividend stocks to buy today that is also a REIT.
This is a Canadian REIT that specializes in investing in high-quality office properties in mid-sized metropolitan markets, primarily in the western and southern United States.
As of Q3 2018, it owned 5.3 million net rentable square feet of office complex space.
According to the most recent earnings report from CIO, the business is in excellent shape. Earnings per share were reported at $0.28, which was $0.02 above analyst expectations. Quarterly revenue hit $31.5 million, which was an increase of 24% from the prior year.
Over the past three years, CIO has been able to grow its gross profits annually, and it has doubled its bottom-line results since 2014.
There doesn't appear to be any sign that this momentum will slow in the near term.
Company management predicts a 25% increase in earnings to $7.23 million.
Shares of this stock currently trade at $11.66, and analysts have a high price target of $15.50 for CIO. This would be a 33% gain above today's price over the next 12 months.
In addition to this, the stock has a 7.99% dividend yield, which is nearly double SHO's.
Claim Your Portion of This $11.1 Billion Money Pool: By following a few simple steps, one IRS directive could help set you up to receive checks of up to $1,795 every single month. Hordes of Americans have already signed their names to the distribution list - and the longer you wait, the greater your risk of missing out on this powerful investment. Click here for more details.