"Like finding a needle in a haystack."
Finding the right stocks in a market like this can be that way. There are around 4,000 stocks and almost as many funds. But only a relative few have what it takes to make you serious money.
You know the right ones are there... but they're all mixed in with the losers, and you don't know exactly what the right stocks "look like."
That's where my systems come in. They look at 10 years' worth of data on the top-performing 250 stocks and ETFs on the market to find only those stocks with a 90% or better chance of doubling your money.
But don't misunderstand: The stocks themselves don't have to double... Not at all. That could take forever, and I'm looking to book a 100% gain - make that six 100% gains - in five weeks at the outside.
Let's take a look. None of these stocks have to budge more than 10% for the doublers to start rolling in...
[mmpazkzone name="in-story" network="9794" site="307044" id="137008" type="4"]
How Small 10% Moves Can Bring 100%-Plus Profits
I created the Money Calendar and Alpha-9 because the kinds of tools that I wanted simply weren't available, so I hired a couple of great guys who are actually rocket scientists to help me out.
These folks are literally math geniuses, and with their skillset, I've been able to generate a large number of computer scanners that crunch through massive amounts of data to present to me the very best trading opportunities. These tools find "needle in the haystack" trading opportunities in seconds that would take weeks to find manually, and they do it with much higher accuracy.
This Beats Anything We've Ever Seen for Life-Changing Potential to Get Rich: It's the easiest, fastest, and most idiot-proof way to help you consistently find winning gains that we've ever seen. Using this strategy, you'll have the chance to start making an extra $30,000, $40,000, even $50,000 a month - or more. Here's how it works...
They even allow me to test results with historical data.
With a couple of keystrokes, I scour the entire market to find stocks that are in an upward channel.
That's not all: These stocks have to be underlying options that will double with the smallest percentage move in the stock.
It takes me a matter of seconds to answer this question. Here's what my scanners provided late last week: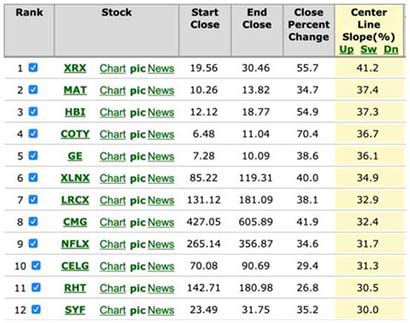 There are some big companies in this list, and all of them are in an up channel. The first in the list, as you can see, is Xerox Corp. (NYSE: XRX):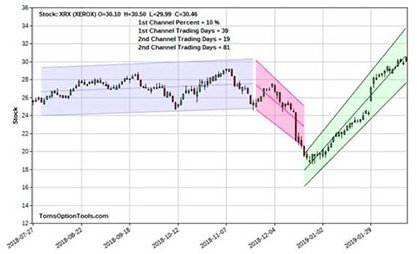 You can see the green shading highlighting the "up channel." The column "Center Line Slope (%)" gives us the slope of the channel. XRX has an up channel sloped at 41.2% gradient.
Again, my scanner found this for me in less than 10 seconds; the math behind the scenes makes all of this possible.
Stock-Flipping Formula Can Hand Students Up to $30,000 (Monthly): With Tom Gentile's Stock-Flipping Formula, anyone can make an extra $30,000, $40,000, or $50,000 a month flipping stocks - starting with as little as $371. Click here to learn more today.
The rest of the stocks in this list all sport a similar pattern, moving in roughly the same direction.
Buy and hold one of these stocks for a while, and you'll book okay profits; you'll beat the market at any rate.
But... why stop there when it's just as easy - easier, really - to double your stake or better, much faster than that.
A few more keystrokes (I'm really working my fingers to the bone here) and a few more seconds, and we have a list of stocks underlying options that should double in value with very, very small moves in the stocks.
It even tells me which options to buy in order to double my money the fastest.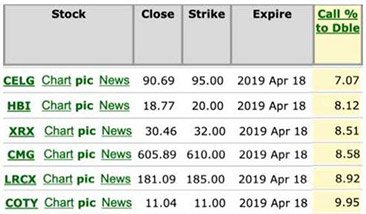 The last column, "Call % to Dble," indicates how far the stock needs to rise in order to double my money. Each of the potential trades in this list will double with less than a 10% up move in the stock.
Yes: The stock goes up less than 10%, and you double your money!
If options haven't gotten your attention yet, they should now. I believe everyone needs to be trading these.
Now, the first stock in the list, Summit, NJ--based biotech Celgene Corp. (NASDAQ: CELG), boasts an upward slope gradient of 31.3%, and if I buy an April $95 call and the stock goes up just 7.05%, I'll double my money.
So, what's the point of all of this?
Well, it just further proves what we already know...
The right trading system combined with the power of options can yield some amazing trading opportunities and profits - and it's all with just a click of a button.
Now, when it comes to finding the best strategy to execute these powerful moves, it depends on personal preference...
How We Profit with Weekly Options
They're called weekly options because, as the name implies, they're only good for a single week - while regular options last for weeks, months, or even years. Unfortunately, most investors are missing out on the profits that weeklies can generate. Trading weekly options is easy, and the immense reward potential they offer more than makes up for the risk.
And those rewards come more quickly, too - with the opportunity to double your money every single week. Better yet, you don't have to be a genius, a financial wizard, or a rocket scientist to profit handsomely with weeklies. Nor do you need large sums of money to get started. In fact, all you need to get started is a few hundred dollars... and four and a half minutes every Monday to make my recommended trades. Click here for my full report on weeklies and to learn how to access my weekly recommendations.
I Call This One the "Daily Double Method"
A single stock generates a minimum of 23,400 (what I call) Alpha Channels every day the market is open. And when we focus in on S&P 500 stocks, that's 11.7 million Alpha Channels generated per day. That's a lot of activity, and it can make finding your buy or sell signal near impossible. It's why I invented Alpha-9.
I wanted a powerful machine to do that legwork for me, making it easy to exploit trends and pick the market's pocket on a daily basis. Because when I see the signal, I know the stock is about to experience an explosive move. The result? Daily double-your-money opportunities. Click here to see how Alpha-9 works - and how you can make these "daily double" moves for yourself.
Here's What It Means to "Flip Stocks"
Flipping a house takes hundreds of thousands of dollars, months of waiting, and no guarantee of a payoff. But when you're flipping stocks, you can buy quick, sell fast, and double your money in a matter of days.
This is the only place where you can see exactly how to start flipping stocks by yourself... and even how you could make $60,000 or $70,000 on a single stock flip in rare and extraordinary cases. Full details...
Follow Money Morning on Facebook, Twitter, and LinkedIn.
About the Author
Tom Gentile, options trading specialist for Money Map Press, is widely known as America's No. 1 Pattern Trader thanks to his nearly 30 years of experience spotting lucrative patterns in options trading. Tom has taught over 300,000 traders his option trading secrets in a variety of settings, including seminars and workshops. He's also a bestselling author of eight books and training courses.