No one expects the best defensive stocks to be soda companies, especially in the new era of healthy living.
But soda stocks actually tap into one of the most powerful global trends, and they'll keep rewarding investors for decades to come.
Our very own Money Morning Chief Investment Strategist Keith Fitz-Gerald has found six "Unstoppable Trends" that will always drive the market, rain or shine. He argues there are always profits to be found in energy; demographics; medicine; war, terrorism, and ugliness; scarcity/allocation; and technology because there are trillions of dollars behind these industries.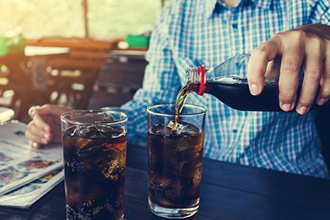 That's a great way to start thinking about what could be the best defensive stocks to help you survive the market's ups and downs. We are in the longest bull market in history, and the longer it goes, the more worried investors become.
And soda stocks tap right into the demographics trend because the global population will keep driving demand. People will always need beverages, even if the economy slows down. It's just a matter of what kind.
A 2015 study by Nielsen had 88% of respondents saying they would pay more for healthier foods.
Beverage trends present similar evidence. In 2017, The New York Times reported the number of adults drinking at least one sugary beverage on any given day had dropped from 61.5% in 2003 to just 50% in 2014. The Philadelphia Health Department also reported a 10% drop in soda consumption between 2015 and 2017.
It's clear tastes are trending toward healthier options, which would seem to be the death knell for companies making sugar-loaded sodas.
But they are actually the best play to tap into this new healthy trend, and it means their stocks offer not only sustainable income for your portfolio, but 40% upside too...
Why the Best Defensive Stock Is Also the Best Offense
It may come as a surprise, but soda companies are at the forefront of America's latest health craze. That's making some of the best defensive stocks to pad your portfolio.
Coca-Cola Co. (NYSE: KO) and PepsiCo Inc. (NASDAQ: PEP) are both ranked among the top 300 most powerful companies in the world by Forbes. The list considers revenue, profit, assets, and market value. These companies have delivered an enormous, agile variety of food and beverages for decades. On one end, you have your standard Coke and Fanta; on the higher end, you have Smartwater and Zico coconut water. Then there's an array of energy drinks, teas, and orange juices falling somewhere in the middle.
Both Coca-Cola and Pepsi have been expanding their portfolios of electrolyte-filled waters and other healthier choices over the last few years. Coke bought Costa coffee and BodyArmor sports drink last year, while PepsiCo reportedly took in 45% of its revenue from "guilt-free products" in 2017, which included organic versions of many FritoLay snacks.
The "healthy" market has only kept these food and drink giants shaking things up to increase their bottom lines.
They are getting even more innovative, too.
The PepsiCo CFO reported late last year the company was taking a "hard look" at the emerging legal cannabis market. This was only a month after Coca-Cola announced that CBD, or Cannabidiol, was on its radar. Their shared interest in CBD not only signals future revenue growth in an untapped market, it is also a big step toward health consciousness.
CBD is known for its medicinal use, treating ailments such as chronic fatigue, pain, anxiety, and depression. Many smaller companies have sought to create beverages infused with CBD oil, but Coke and Pepsi have the resources to conquer the whole market. CBD could even turn this defensive stock play into great offense if the "year of CBD" goes as expected.
Billions Are Now in Play: Millions of Americans could collect "Federal Rent Checks" - to learn how to claim your portion of an $11.1 billion money pool using this backdoor investment, click here now...
Plus, these companies have some of the strongest financials you'll find.
Both Coke and Pepsi are expected to increase revenue by 7.6% in 2019. KO currently trades at $45.34 with a high one-year target of $64. PEP goes for $115.40 with a target of $118.68.
KO's price/earnings ratio stands at 30.16 and PEP's at a superb 13.14, while the industry's is 60.10, signaling a great chance to profit from both stocks.
Their growth potential is only reinforced by our proprietary Money Morning Stock VQScore™ system, which gives both stocks a 3.75, just a notch away from the "buy zone."
Even if their prices don't come down, these stocks have the advantage of brand loyalty and other competitive moats in place to keep them stable.
These are great companies that pay big dividends of 3.2% to 3.5% and are not going away anytime soon. This will help you whenever the markets decide to turn down, or if you just need to add some income to your portfolio.
But if you're really looking for big gains fast, this other food and beverage company could make trouble for Coke and Pepsi. It's projected to grow twice as fast in the next year.
This one registers a perfect 4.75 VQScore, meaning it's an immediate buy.
The Best Defensive Stock to Buy Before the Next Recession
Join the conversation. Click here to jump to comments…
About the Author
Mike Stenger, Associate Editor for Money Morning at Money Map Press, graduated from the Perdue School of Business at Salisbury University. He has combined his degree in Economics with an interest in emerging technologies by finding where tech and finance overlap. Today, he studies the cybersecurity sector, AI, streaming, and the Cloud.