Palantir stock will hit the market soon, following what could be one of the most valuable IPOs of 2019.
But with all of the mystery and controversy surrounding Palantir Technologies Inc., retail investors may want to hold off on buying Palantir stock out of the gate...
Instead, we'll show you a secret way to start profiting from the hype this company is generating...
Now, the company has an immense amount of potential. It's become a startup "unicorn" for a reason. But much of its financials are still under tight lock and key.
It's a stark contrast to companies like Slack, Lyft, Uber, and Pinterest - all of which have provided detailed information on their finances, and more specifically, their losses.
So far, the only indication on finances we have comes from Fabrice Bregier, president of Palantir France, who says the company had $1 billion in revenue for 2018.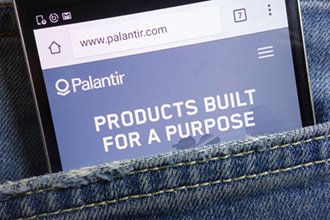 What makes this company stand out from the big and overcrowded Silicon Valley IPOs of 2019 is its relationship with the U.S. government. The firm's software is used by at least 12 intelligence agencies. Palantir even played a key role in tracking down Osama Bin Laden.
Whether it's intelligence, aerospace, automotive, or banking, Palantir focuses on developing easy-to-navigate platforms for managing, integrating, and securing data layered within applications. Its systems were built to improve user experience, design, data science, infrastructure, and big data processing.
This means it's a data-mining company. Data-mining is when you pull new information out of data sets based on patterns.
For example, in 2012, Target Corp. (NYSE: TGT) identified 25 products that when purchased, would indicate a customer is pregnant. They figured this out by data-mining purchase histories of female customers and determining the exact types of products that all pregnant women were purchasing.
Once they identified the products, they were then able to accurately determine whether a female customer was pregnant or not. And this was based entirely on the patterns found in Target's purchasing data. Thus, pulling new information from existing data sets.
Get Ready for 5G NOW! A single company could be about to corner the entire 5G market - and you could turn every $1,000 you stake into $10,000! Go here now to find out how.
While Big Data is a massive field that will continue to grow, there are growing concerns about people's privacy over data-mining.
Before we get into all of the details of why, here's what we know about the firm...
Palantir IPO: the Road to Success
Back in 2003, founders Peter Thiel (PayPal), Alex Karp, Nathan Gettings (PayPal), Joe Lonsdale, and Stephen Cohen started Palantir as a way to effectively understand and organize information within sensitive data.
Thiel named the company after his favorite childhood book: "The Lord of the Rings." In the story, a Palantir was an artifact that enabled people to see over vast distances. And Thiel's goal for the company was to implement software like PayPal's fraud recognition systems in a way that would help track down and reduce terrorism across the world while also upholding civil liberties.
The company initially struggled to find investors. But eventually, it received an early investment of $2 million from the CIA's venture capital arm, In-Q-Tel, as well as $30 million directly from Peter Thiel himself through his venture capital firm, Founders Fund.
In 2009, the company began to make headway. It had uncovered that China's cyber-espionage networks, GhostNet and Shadow Network, had targeted roughly 1,300 computers in 103 different countries. China had successfully taken information from NATO, the Dalai Lama's Office, and the Indian security and defense network.
The following year, Thomson Reuters Corp. (NYSE: TRI) partnered with Palantir to sell the Metropolis product as "QA Studio." The software was so successful that Vice President Joe Biden and the Office of Management and Budget held a press conference at the White House crediting the fight against fraud to Palantir's software.
Once 2013 rolled around, documents were leaked to TechCrunch saying Palantir had numerous U.S. government clients. Those included the Air Force, West Point, Special Operations Command, the Marine Corps, the CIA, DHS, NSA, FBI, and CDC.
By 2016, the company had signed a $222 million contract with the Department of Defense's Special Operations Command (SOCOM). The deal funded a logistics software known as "All-Source Information Fusion." And it was designed to gather intelligence for SOCOM, who is in charge of all special operation units in the U.S. military.
According to CNBC, the firm also beat out Raytheon for a U.S. Army contract worth roughly $800 million back in March as well - a move that represented a pretty big departure from the Army's traditional deals with defense contractors.
This resulted in the company becoming a defense program of record - a title given to only the biggest projects awarded by the Pentagon.
Palantir's contract with the U.S. Army required it to develop an Army Distributed Common Ground System (DCGS-A). And the purpose of the intelligence system was to help soldiers while they were stationed in remote locations.
Beyond government agencies, Palantir's customers have included healthcare firms, aerospace and automotive manufacturers, and a few well-known banks.
And while it sounds like the company is completely dominating in its sector, there are a few factors that could end up impacting the Palantir stock value...
How Much Is Palantir Worth?
Palantir's mysterious nature also contributes to the controversy surrounding its exact value.
In 2015, prospective investors and shareholders said shares were worth $11.38 each at a valuation of $20 billion. But in the last few months, the firm cut employee stock options down to roughly $6.
At $6 per share, that would give Palantir an overall value of about $11 billion. In other reported cases, some employees are able to buy shares as low as $1 below the discounted price.
As of January, there were also rumors of more generous bonuses for employees. To a certain degree, this could spell big bucks for veteran staff. But newer employees can only buy the shares at a price that most investors see as much higher than they're worth.
According to Fortune, the bonuses were in response to years of diminishing returns on private stock transactions, shareholders writing down their holdings, and even some political turmoil within the company.
You see, Peter Thiel holds strong conservative beliefs, while CEO Alex Karp has taken a liberal stance on American politics. Their opposing opinions have trickled down throughout the company, and it reportedly has created morale issues with staff.
In some instances, recruiters have reported that candidates have turned down positions over political affiliations and concerns over potential government misuse of the company's software.
And to a degree, there is validity behind the potential dangers of data-mining and civilian privacy.
Prospective investors and shareholders say all seven mutual funds that have shares in Palantir have cut the value of their holdings in half since 2015's high. As of September 2018, SP Investments Management values Palantir's shares at $7.87. While Morgan Stanley's (NYSE: MS) Mutual funds have dropped in price seven different times in three years to $2.49.
So, if you were to ask what the company was worth, it would come down to who you were asking.
For Peter Thiel, it's $20 billion. For Morgan Stanley (NYSE: MS), they have hopes that it'll be as high as $41 billion. If we're talking about mutual funds, they estimate anywhere between $4.4 billion to $14 billion. And for new employees, it's $11 billion and the promise of a big check somewhere down the line.
For right now, we recommend retail investors remain cautious about buying into Palantir stock once it goes public (there is no official date yet).
However, we have a backdoor play for retail investors to get in on the Palantir stock without worrying over early IPO volatility.
This Is the Best Backdoor Play to Profit from Palantir Stock
[mmpazkzone name="in-story" network="9794" site="307044" id="137008" type="4"]
IHS Markit Ltd. (NASDAQ: INFO) is one of Palantir's data and device providers that helps the company enhance its services and fit operational needs.
This stock is your backdoor play on Palantir while avoiding the volatility of early IPOs...
IHS is an intelligence company that provides analysis and information for firms and governments in a variety of industries like defense, security, automotive, aerospace, energy, chemical, maritime, trade, and financial markets.
It's a lesser-known firm, but it's profitable. By year-end 2018, HIS' total revenue was $4.01 billion. Its adjusted EBITDA was roughly $1.6 billion.
Analysts expect revenue in 2019 will reach $4.45 billion. By 2020, it'll be $4.71 billion. That would be an annual growth of 11% and 6%.
In IHS' most recent quarter, its sales growth was 13% higher in comparison to the same quarter last year.
Analysts are also bullish on IHS's earnings. In the most recent quarter, earnings were up 6.6% to $0.65. However, several analysts expect it to increase an incredible 292% to $2.55 by the end of 2019. And by 2020, they predict it will be $3.88. That would be 343% growth in just two years.
Shares currently trade for $54.98.
The $12 Trillion 5G Revolution Is Here!
It's the greatest breakthrough in history. It can usher in an incredible new world, potentially minting millionaires by the bucketload!
And one $6 company - that no one is talking about - could skyrocket in 2019.
Here's how you could make 10 times your money from this red-hot phenomenon.
Follow Money Morning on Facebook and Twitter.
About the Author
Daniel Smoot is a Baltimore-based editor who helps everyday investors with stock recommendations and analysis. He regularly writes about initial public offerings, technology, and more. He earned a Bachelor's degree from Towson University.