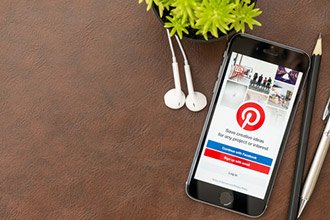 Similar to Uber and Lyft, the Pinterest IPO is the latest startup "unicorn" to make Wall Street jump with excitement. And even though Pinterest shows potential, we cannot recommend buying its stock at the IPO.
The company announced plans for its IPO back in February, when it filed paperwork with Goldman Sachs Group Inc. (NYSE: GS), Allen & Company, and JPMorgan Chase & Co. (NYSE: JPM). The filing showed Pinterest intended to list its shares on the New York Stock Exchange under the symbol "PINS."
However, there are just too many red flags for retail investors to get excited.
Here are a few things you need to know about Pinterest before you jump in on the Pinterest IPO…
What Is Pinterest?
Founded in 2010, Pinterest is a social media site that encourages users to share and post images based on their interests. The users are known as "pinners," and when they like a photo they see, they "pin" and add it to their collection of images.
The collections, also known as "boards," are organized spaces for a pinners' saved and shared images.
It's like if an online scrapbook had a child with social media. But instead of character limits and status posts, it's meant for users to browse images about home improvement, interior decorating, recipes, wedding planning, fashion, and crafts.
The site is completely free to use, but you need an account to get moving. Luckily, Pinterest makes this simple by allowing you to integrate your Google and Facebook Inc. (NASDAQ: FB) logins.
While Pinterest is simple and fun to use, it's also not without competitors. The largest and most obvious ones are Facebook, Instagram, and Twitter. However, there are others like Houzz and Allrecipes.
Get Ready for 5G NOW! A single company could be about to corner the entire 5G market – and you could turn every $1,000 you stake into $10,000! Go here now to find out how.
Stacked up against Facebook's 2.3 billion users, Pinterest has a comparatively smaller user base of 265 million.
Thankfully, Pinterest doesn't have to worry about some of the negative press other tech companies are facing. For the last year, Facebook has been dealing with privacy concerns. And Uber has had a long string of scandals in the last two years as well.
Beyond that, the company has a growing user base that has gone up 22% since 2016. Its revenue is growing, too. It jumped 60% between 2017's $473 million and 2018's $756 million.
The company's private valuation has also reached an estimated $12 billion after receiving $1.5 billion in funding. And some of its biggest private shareholders include Valiant Capital Management, Andreessen Horowitz, FirstMark Capital, Fidelity Investments, and Bessemer Venture Partners.
However, the company hasn't provided a price range or goal for the Pinterest IPO launch.
There's a surplus of hype surrounding the Pinterest IPO, but retail investors should be wary over these few key red flags…
Should You Invest in the Pinterest IPO? We Don't Think So