Markets have barely moved since April, but you don't have to be saddled with sideways returns. That's why we're showing you the top penny stocks to watch this week, including one winner to buy now.
Since April 1, the S&P 500 has not moved more than 1% in any trading session.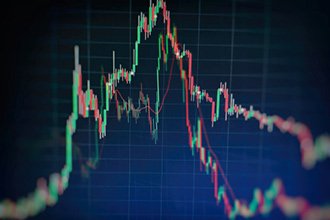 Meanwhile, the CBOE volatility index has fallen over 30% since March 25, a sign stocks are moving very little in day-to-day trading. The last time volatility fell this much was in October 2018 - right before stocks tanked and volatility went through the roof.
That could mean volatility hitting lows again could just be the calm before the storm. Fortunately, the best penny stocks offer the sort of upside that will pad your pockets when volatility returns.
You see, because of their low share prices, penny stocks can be huge winners when volatility spikes, generating massive returns on the smallest price movement.
That's what happened during October's volatility spike, when Inuvo Inc. (NYSE: INUV) jumped 197% at the end of the month.
Thankfully, you can lock in these kinds of returns with ease when the next wave of volatility hits - as long as you have the right penny stocks.
Get Ready for 5G NOW! A single company could be about to corner the entire 5G market - and you could turn every $1,000 you stake into $10,000! Go here now to find out how.
After looking at last week's top penny stocks, we'll show you a penny stock that's on the verge of delivering huge returns - especially if volatility spikes...
Here are last week's top-performing penny stocks:
| | | |
| --- | --- | --- |
| Penny Stock | Current Share Price | Last Week's Gain |
| Precipio Inc. (NASDAQ: PRPO) | $0.48 | 79.25% |
| ZBB Energy Corp. (OTCMKTS: ESNC) | $0.009 | 54.17% |
| Ideal Power Inc. (NASDAQ: IPWR) | $0.63 | 41.48% |
| Monaker Group Inc. (NASDAQ: MKGI) | $2.37 | 30.53% |
| Boxlight Corp. (NASDAQ: BOXL) | $4.30 | 29.52% |
| Renren Inc. (NYSE: RENN) | $1.90 | 26.67% |
| Taseko Mines Ltd. (NYSE: TGB) | $0.74 | 26.25% |
| Iconix Brand Group Inc. (NASDAQ: ICON) | $1.89 | 23.53% |
| S&W Seed Co. (NASDAQ: SANW) | $2.99 | 22.04% |
| SenesTech Inc. (NASDAQ: SNES) | $1.45 | 21.85% |
As you can see, the low rates of volatility have suppressed the kind of gains penny stocks are typically capable of. However, that means now is a perfect time to set yourself up for when the right penny stock breaks out.
And that's why we're so excited about our top penny stock to buy this week.
It's an international holding company that could double your investment if the market moves.
And it's only trading for $2.72....
The Top Penny Stock to Buy This Week
[mmpazkzone name="in-story" network="9794" site="307044" id="137008" type="4"]
Dallas-based Valhi Inc. (NYSE: VHI) is a holding company that manages the market securities for several different types of U.S. industries.
Founded in 1932, Valhi operates three major segments - component products, chemicals, and real estate management and development.
It operates its components business through CompX International Inc., of which it has majority control. This business is a leading provider of security products for industries such as office, healthcare, and the postal service.
It also has major control of Kronos Worldwide Inc., a company that operates its chemicals segment. This company produces and markets additives that are used in plastics, paper, paint, and other fibers.
Valhi also has majority control of BMI and LandWell, which make up its real estate and development segment. BMI is concerned with utility services and LandWell with development activities in Nevada.
At the same time that Valhi manages these other companies, it is also wholly owned by a private company, Contran Corp.
VHI pulled in $228 million in pure profit last year, and you can get a slice of these profits for a dirt cheap price/earnings multiple of 2.9. The average S&P 500 stock trades at over 20 times earnings.
Plus, VHI rewards its shareholders with an outstanding 4.15% dividend yield.
There is a $4 price target on VHI stock, which would give today's investor a 55% gain from today's share price of $2.57 over the next year.
However, it could go through the roof if volatility spikes...
5G Is Coming: The Breakthrough of the Century Could Rest on This $6 Stock
CNBC reports that this opportunity is worth $12.3 trillion... and it's gearing up to make an appearance all over America.
In fact, some of these devices are showing up right in your neighborhood - and I'm willing to bet you didn't even notice.
Our Silicon Valley insider mapped out all the details in this report.