The trade war sent stocks tumbling over the last week, but investors shouldn't panic. While the Dow Jones dropped 676 points (2.5%) over new tariffs enacted by the United States and China on Friday (May 10) and Monday (May 13), the temporary downturn is creating an opportunity.
Investors should shift their attention to high-yield dividend stocks, especially domestic firms in the defense and service sectors. Since these companies focus on U.S. operations, they don't rely on global trade networks to make money.
And we've found the perfect stock to help you recover from the recent turbulence.
This high-dividend stock hasn't been immune from the market's dip, but that's boosted its dividend yield to a juicy 8%. And while that has us excited, we're bullish on this stock and have been for the past year for a couple of reasons.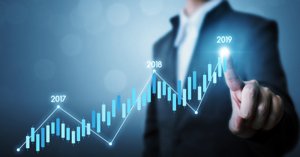 This stock has been safeguarding valuable data for the past 68 years. And right now, roughly 95% of the Fortune 1000 companies trust this firm to keep their data safe - both digitally and physically - putting this stock in a prime position to rake in profits regardless of the market.
Between its high-dividend yield, the company's forecasted growth, and its share price upside, this stock is a must-buy during the market downturn.
Especially since it has a perfect Money Morning Stock VQScore™...
Why Cybersecurity Is an Invaluable Market
Even before the age of the Internet, consumer privacy has always been a concern. But the difference between now and 68 years ago is the sheer scale of data issues that we see today:
In 2014, 145 million user accounts were hacked and compromised on eBay Inc. (NASDAQ: EBAY).
In 2016, Altaba Inc. (NASDAQ: AABA) compromised 3 billion Yahoo! users.
In 2017, Equifax Inc. (NYSE: EFX) saw a data breach that compromised 143 million people's information.
In 2018, both Facebook Inc. (NASDAQ: FB) and Marriott International Inc. (NASDAQ: MAR) had massive data scandals - the latter leaked 500 million accounts.
In the first three months of 2019, over 2 million government official's information had been hacked and stolen from the Dow Jones.
In Facebook's case, the company wasn't hacked. Instead, it simply made 2.2 billion users' information available to third parties with relative ease.
5G Could Mint a New Wave of Millionaires: The greatest tech shift in generations could be about to create untold wealth for investors. To find out how you could capture a life-changing SIX-figure windfall, go here now.
This set off a chain reaction for tighter digital security across the world.
In 2018, the EU established a new Global Data Protection Regulation (GDPR) across 28 countries that required companies to:
Receive consent before data processing.
Protect individual privacy by collecting data anonymously.
Notify individuals of any breaches in data.
Safely send data across borders.
Have data protection officers overseeing operations so they are in line with GDPR.
And this law is applicable regardless of where the data is being processed. Even if it's being done by an American company, it still has to comply with these regulations.
Along with growing regulations, cybersecurity was valued at $137.8 billion globally in 2018 alone. Over the next four years, Money Morning Defense and Tech Specialist Michael A. Robinson says it'll skyrocket to $231.9 billion. That's roughly 68% industry growth in just four years.
But it's only the beginning.
Once 2021 rolls around, cybercrime damages will rocket to $6 trillion, according to Cybersecurity Ventures. The cybersecurity industry is expected to continue growing well into the future. In fact, Robinson says it's the type of market that will make many companies and investors incredibly rich.
And that makes this stock the perfect play during the market downturn as concerns over data security continue to rise.
The Best High-Yield Dividend Stock to Buy Right Now
Join the conversation. Click here to jump to comments…
About the Author
Daniel Smoot is a Baltimore-based editor who helps everyday investors with stock recommendations and analysis. He regularly writes about initial public offerings, technology, and more. He earned a Bachelor's degree from Towson University.