The Dow Jones Industrial Average will struggle today as ongoing trade concerns rattle investor sentiment. U.S. Treasury Secretary Steven Mnuchin said the Trump administration has made no plans to visit China to continue talks over tariffs and trade.
Other DJIA impacts: The Sprint/T-Mobile merger is starting to look questionable, and oil is ticking back down. More on this below.
Here are the numbers from Tuesday for the Dow, S&P 500, and Nasdaq:
| | | | |
| --- | --- | --- | --- |
| Index | Previous Close | Point Change | Percentage Change |
| Dow Jones | 25,877.33 | 197.43 | 0.77 |
| S&P 500 | 2,864.36 | 24.13 | 0.85 |
| Nasdaq | 7,785.72 | 83.35 | 1.08 |
Now, here's a closer look at today's Money Morning insight, the most important market events, and stocks to watch.
The Top Stock Market Stories for Wednesday
Goldman Sachs Group Inc. (NYSE: GS) issued a warning about Apple Inc. (NASDAQ: AAPL). Sachs said the stock could fall as much as 29% if China were to ban the company's products. Some on Wall Street speculate China may consider a ban in retaliation to the U.S. government's actions against Huawei. Not only could China ban the sales of phones, but Apple would also have to shift production out of the nation on relatively short notice. AAPL stock was off 1.8% in pre-market hours.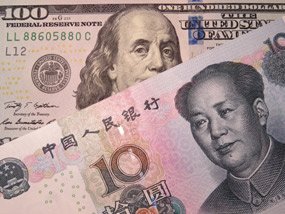 Former Speaker of the House John Boehner - once the cannabis industry's most staunch opponent - just revealed a prediction about America's most controversial, misunderstood, and potentially most lucrative industry. If you missed seeing this historic live announcement, go here for a special rebroadcast.
In deal news, shares of Avon Products Inc. (NYSE: AVP) are up 13%. The firm is preparing for a buyout deal from Brazilian cosmetics giant Natura Cosmeticos. The boards of both companies have reportedly approved the deal. Avon was an iconic company, best known for its door-to-door cosmetic sales. The stock has struggled due to the firm's inability to compete with online cosmetic retailers.
Oil prices ticked lower after another surprise uptick in U.S. inventory levels. The American Petroleum Institute reported that U.S. stockpiles increased by 4.2 million barrels last week. Analysts had expected a downturn of nearly 600,000 barrels. The Department of Energy will give the official stocks report later today. Meanwhile, Saudi Arabia announced its intention to keep the global markets in balance.
Stocks to Watch Today: TGT, S, QCOM, S
Follow Money Morning on Facebook and Twitter.