With the recent surge in gold to five-year highs, the price of silver may just be coming into its own.
Since my last silver update, stocks have come roaring back to near all-time highs.
But interestingly, silver prices have rallied as well, benefiting from all the trade war talk and the cloudier economic outlook.
Since bottoming in late May, silver has rallied by 7.3% in just three weeks. At the same time, its technical picture has improved considerably. What's more, other technical indicators are also pointing to not only higher silver, but perhaps to even a breakout of sorts.
The Fed's meeting last week was widely followed. Its benchmark rate remained unchanged, but the Fed did remove the word "patient" from any references to future policy moves.
That boosted silver prices, which immediately jumped from a spot price of $14.95 to $15.10. And after stock markets closed, it climbed further to about $15.30 before retreating. By early afternoon on Thursday, June 20, silver touched $15.50 for a 3.7% gain in just one day.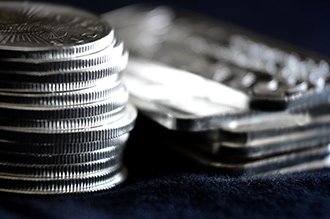 With the Fed expected to cut rates soon, and most other central banks in accommodative mode, the setup for precious metals to put on a sustained rally is looking more favorable by the day.
Quantitative easing, very low or even negative interest rates, and heightened economic worries are providing conditions where silver could absolutely scream higher over the balance of 2019.
Why the Price of Silver Is Climbing Now
Last month, I talked about the gold-to-silver ratio. At the time it was up at 88, meaning silver was priced such that it would take 88 ounces to buy one ounce of gold.
Sign up for SMS so you never miss special events, exclusive offers, and weekly bonus trades.
Historically, that was exceptionally high.
$1 Cash Course: Tom Gentile is offering a rare opportunity to learn how to amass a constant stream of extra cash - year after year. And he's going to teach you how to do it entirely on your own. Learn more...
Well, in the past month that ratio has gone even higher, currently sitting above 90.
Below, you'll see how the gold-to-silver ratio has trended since 1988.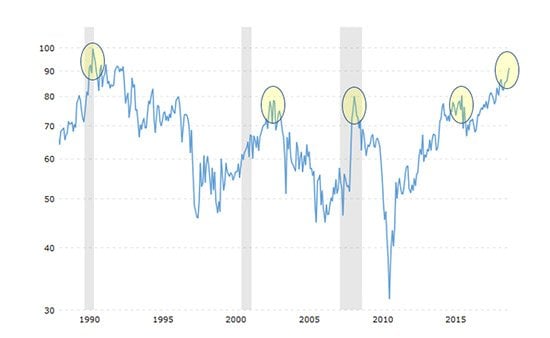 Whenever this ratio has peaked over the last 30 years, it's turned out to be a great time to buy silver. The average gain was over 20% during the next 12 months and an astounding 105% over the next three years.
Starting at today's price around $15 per ounce, and if the ratio peaks near its current level, that would mean silver could reach about $18 by September and $30 by next June.
Obviously, there are no guarantees. But this has happened multiple times before, and these returns are averages. Given how long silver's been struggling, this time around the breakout could be even better than average.
Looking at the CME Group's Fedwatch Tool, odds are pretty good that there will be a Fed rate cut by July, with current probability set at 67.7%.
Now let's look at how silver's been acting.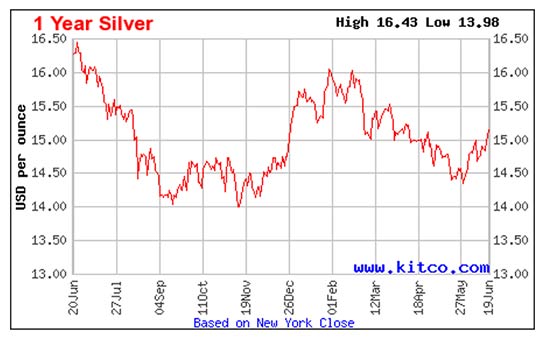 The price of silver has been all over the map for the past year, trading in a range mostly between $14 and $16.
However, if we zoom in on the last six months, the picture becomes somewhat more encouraging.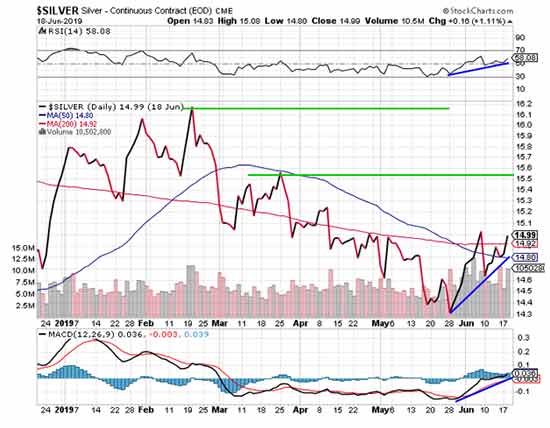 Both the relative strength index (RSI) and moving average convergence divergence (MACD) momentum indicators are confirming the current run higher, which wasn't the case back in January and February, when they were instead losing momentum.
The RSI and MACD are both far from overbought, suggesting this move could have plenty of room to run higher still.
Just how high could silver go?
Here's my prediction...
Here's How High the Price of Silver Could Jump in 2019