Beyond Meat Inc. (NASDAQ: BYND) soared over 227% higher since it went public on May 28. That's because its meatless burgers and sausage products are wildly popular. Now it's getting a new rival.
And instead of telling you which company is going to win, we're telling you there are plenty of reasons to own both companies.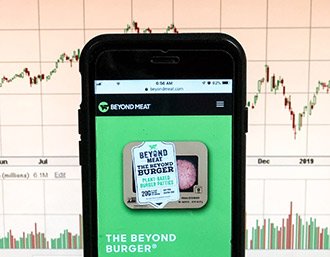 Beyond Meat's explosive growth is largely due to the market's interest in plant-based meat. But it's also because of the way it markets itself to different demographics.
The company is all about inclusivity regardless of your diet of choice. In fact, it doesn't say people should stop eating meat. It simply challenges our idea of what we define as meat.
Plus, it helps that Americans have become more environmentally conscious. A Yale University study that found 69% of Americans are worried about climate change, and meat production takes a toll on the environment.
Producing meat requires over 100 million pounds of fertilizer, pesticides, fuel, and water. This creates 10 to 40 times as much nitrous oxide and other greenhouse gases as the production of vegetables and grains does.
Beyond Meat's success now has other companies wanting a piece of the pie. It's a market that MarketWatch says will be worth $140 billion within the next 10 years alone. Firms like Tyson Foods Inc. (NYSE: SN) and Nestle (OTCMKTS: NSRGY) are gearing up to release their own plant-based products in the fall.
Plus, Beyond Meat's biggest competitor, Impossible Foods, is ramping up its product offerings.
But there's another company joining the fray that we think is a better play, and it could be the perfect complement to Beyond Meat in your portfolio.
Top 5G Stocks: Silicon Valley insider Michael Robinson has just released the most comprehensive 5G wealth report on the planet. We have a limited number of copies available. Learn how to get yours here.
This company has been around for almost 40 years. Plus, it's plenty profitable. In fact, it's already made $678.3 million in net profit this year. So it has the cash to reward its investors with a nice 3.20% dividend.
And with its latest plant-based meat acquisition, its profits could soar even higher...
Check out Beyond Meat's latest rival - and why this company is a buy - below.
This Alternative Meat Stock Is a Great Buy Right Now
[mmpazkzone name="in-story" network="9794" site="307044" id="137008" type="4"]
The latest company to dive into the plant-based food market is Conagra Brands Inc. (NYSE: CAG).
This is the food company behind some of the biggest name brands. Its brands include Pam, Chef Boyardee, Vlasic, Duke's, Slim Jim, Reddi-wip, Aunt Jemima, Orville Redenbacher, and even Udi's Gluten-free foods. But it also has its hands in 68 other packaged food brands as well.
This diverse portfolio has resulted in $9.5 billion in annual revenue. Beyond that, it earned the company $678 million in profit in the last year alone. But it wants more. And it sees massive potential in the plant-based meat market right now.
In fact, CEO Sean Connolly told MarketWatch that alternative meat offers a $30 billion opportunity for the firm in the United States alone. That's why it bought plant-based food company Gardein alongside Duncan Hines and Birds Eye for $10.9 billion.
Gardein is a plant-based packaged food company. It offers everything from meatless sausages to meatless ground beef. Whether it's faux chicken cutlets or crabless crab cakes, its products all use ancient grains, vegetables, and wheat.
And over the last year, it saw $50 million in faux chicken sales, while its beefless beef products made $47 million. Plus, its other plant-based products saw sales of $25 million. That's $122 million from meatless products.
Conagra's acquisition of the company is a big move for the already diverse and profitable firm. Conagra is also expanding into plant-based beverages as an alternative to animal milk. And it's doing this as it works on growing Gardein's offerings even more...
But even while it's focusing its attention on plant-based foods, the company also says its meat products are still selling well. Its chicken product sales saw the biggest growth of 26% this year, while beef and fish grew 11%. Plus, pork grew 9%.
Not only is Conagra benefiting from the current $800 million plant-based meat market, but also the meat, poultry, and seafood market as well. A market that GrandviewResearch says will be worth $7.3 trillion by 2025. That's a massive 630% increase from its current value of $1.05 trillion.
While the company's Q4 earnings report disappointed investors, it reported a quarterly profit of $125.2 million. Investors were concerned over declining sales in its canned products lines, like Hunt's. But steel tariffs are weighing on them more than sagging sales.
Sean Connolly acknowledged the issue, but he also says the company's latest move puts it in a prime position to mount a massive comeback.
That's on top of the fact that Conagra stock has rallied 26% already this year alone. And it'll continue to grow.
By 2020, Conagra's revenue will exceed $10.81 billion. That's 14% growth in sales from today. Plus, its current EPS of $2.11 is expected to increase by 9% by next year to $2.30.
And its 3.2% dividend yield is just icing on top.
Its shares currently trade for $26.57, but it has a target price of $36 within the year. That's a solid 36%. With its jump into plant-based meat, we think Conagra could soar even higher over the next few years. Plus, its more conservative balance with traditional meat and other food products gives you some stability as the plant-based meat industry grows.
Mark My Words: If You Don't Invest in "5G" Right Now, You'll Regret It for the Rest of Your Life
Today, you have a rare chance to lock in a ground-floor opportunity from the biggest technology of the next decade.
I'm talking about 5G. Early investors in previous generations have seen windfalls like $51,000, $80,130, $113,660, and $565,640.
But this could be 100 times bigger than all the previous generations combined.
And we have a list of recommendations that can make you a fortune. Go here.
Follow Money Morning on Facebook and Twitter.
About the Author
Daniel Smoot is a Baltimore-based editor who helps everyday investors with stock recommendations and analysis. He regularly writes about initial public offerings, technology, and more. He earned a Bachelor's degree from Towson University.