You don't need to be an environmentalist to see the investment opportunity renewable energy is becoming. It's not just about clean energy either; it's about costs and efficiency. Investors who realize this now will be set to reap huge rewards from solar stocks.
Companies that allow us to harness the energy of the sun, the wind, and the tides to generate electricity are at the forefront of this movement. And right now, solar power is cheap enough to compete with fossil fuel–based systems.
Don't Sit This One Out! If you had invested in Apple after the 4G rollout, you could have made 56,465%. Now, 5G is going to create a new generation of millionaires, and you could be one of them. Click here now.
In fact, in many areas of the world, it has already achieved "grid parity" with fossil fuels. That means that cost is no longer a roadblock for solar power.
And it will only get better, too.
India is the third largest user of solar power, right after China and the United States, and it's one of the fastest-growing economies in the world. It just cut its solar power generation and delivery costs by 27%. It is now the cheapest solar power producer in the world according to the International Renewable Energy Agency (IRENA).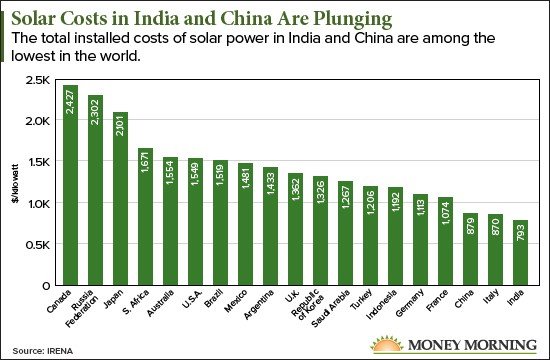 That's a big deal. India is the sixth largest economy in the world and one of the fastest growing to boot, growing by 7% a year. The United States, in comparison, grows at just 2.8%.
But China isn't far behind either.
Now two of the largest, fastest-growing economies in the world are also where solar power costs the least. That's going to add up to a surge in solar demand in these countries as they continue to expand and other energy sources become more expensive, especially coal.
That's creating a massive catalyst for the solar sector – and we've got the perfect solar stock to play it, too…
China and India Are Fueling a Solar Power Boom
While India is the cheapest solar market, China is the largest. In 2018, China installed 44.1 GW of capacity, according to its national energy agency. It reached a cumulative installed capacity of 174.63 GW.
With the air quality issues across big Chinese cities, it is no wonder it is pushing for a clean alternative. China is one of the largest carbon emitters in the world. In 2017, it actually increased emissions nearly three times as much as the United States decreased them. The U.S. was the top emissions reducer that year.
If China is to keep its economy and health on track, it must do something to change this trend. And considering how much solar capacity was added over the past two years, the country is doing it. Still, there is plenty more to go to satisfy this voracious energy consumer. Wood Mackenzie, a consultancy, predicts China's solar production will grow by 700% by 2040.
India itself installed 7 GW last year and is expected to double that in 2019. Indeed, the government expects to build 100 GW of capacity by 2022, which would help it to reach one of its goals under the Paris climate agreement.
While air pollution is not as great a threat, delivering power to India's vast and underserved rural areas is critical. There are hundreds of millions of Indian citizens now living off the grid. Cheap and abundant power must be delivered to its villages, and the government has also pledged to make rural electrification a top priority.
Solar energy, with its plunging costs and sustainability (no need to transport fuel to rural areas), is the perfect candidate to solve the problem.
And we've got the best solar stock to buy today to help you cash in as these countries transition to solar power.
This Is the Best Solar Stock Right Now