According to Statista, the cybersecurity market is worth $167.14 billion. By 2023, it's expected to grow to $248.26 billion. And that's why we're bringing you the best cybersecurity stocks to buy in 2019.
For decades, consumer privacy has been a big concern around the world. In fact, even before the Internet existed, hackers were stealing information. Just look back at 1990. Hackers were arrested across 14 U.S. cities for telephone wire fraud and credit card theft.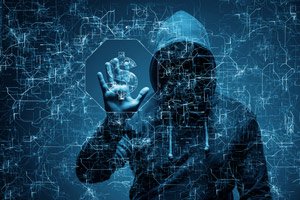 With all the personal data we store online now, it's no surprise data theft has grown since then. Credit card numbers, bank account information, and even social security numbers are at risk. By 2021, Cybersecurity Ventures says cybercrime damages will reach $6 trillion.
Just look at some of the major data breaches in the past five years. In 2014, Yahoo! Inc., now Altaba Inc. (NASDAQ: AABA), announced that hackers took information from 3 billion of its accounts. In 2017, Equifax Inc. (NYSE: EFX) announced a data breach affecting 143 million people. And in 2018, the information of 500 million Facebook Inc. (NASDAQ: FB) users was leaked.
But these are just some of the major cybercrime attacks in that time. And to counteract these data breaches, the cybersecurity industry is growing rapidly. In fact, it's expected to climb 49% in the next four and a half years.
And that's great news for the best cybersecurity stocks to buy in 2019. In fact, the $6 trillion cybercrime damages are a windfall for cybersecurity stocks.
Live Now: Robert Herjavec is helping Americans find new ways of investing to create generational wealth. Click here to watch...
But not every cybersecurity stock is worth putting in your portfolio. Some cybersecurity firms are overhyped, while others can't hold a flame to the best ones around. That's why we've put in the research to help you start adding cybersecurity stocks to your portfolio.
Sign up for SMS so you never miss special events, exclusive offers, and weekly bonus trades.
Read more below to find out the
best cybersecurity stocks to buy in 2019
.
Top Cybersecurity Stocks to Buy in 2019, No. 3: Cisco
Cisco Systems Inc. (NASDAQ: CSCO) is a staple in the tech industry. That's primarily because of its routers and communications devices. But it's also pushing toward dominance in the cybersecurity industry. In fact, it's developed several cybersecurity products. These products include email authentication, firewall protection, anti-virus software, and cloud-server security.
Cisco's clientele includes just about everyone from government agencies to big banks. While Cisco's growth between 2015 and 2018 was very low at only 0.34%, it still grew. And it'll continue to grow. By year-end 2020, analysts expect its revenue to increase 9.16% to roughly $54 billion thanks to 5G.
Cisco's 5G infrastructure will speed up all its cybersecurity offerings by up to 100 times faster than it currently does. Right now, Cisco stock trades for $57.72. That's already up 3% from the last time we recommended it as an investment. But this cybersecurity stock is poised to grow a solid 13% based on analysts' target price of $65 by 2020.
Top Cybersecurity Stocks to Buy in 2019, No. 2: Fortinet
The second cybersecurity stock on our list is California-based multinational Fortinet Inc. (NASDAQ: FTNT).
FTNT has been around for 19 years, and its products include firewalls and antivirus software. It sells its products to public schools, universities, and even hospitals.
Plus, FTNT also works in other lucrative technology sectors. For example, it sells its cloud services to Amazon.com Inc. (NASDAQ: AMZN). Heck, it revealed its new cloud cybersecurity product, Fortiweb, on June 25. Fortiweb is a cloud-based cybersecurity system.
Between 2015 and 2018, FTNT's revenue shot up 79% to $1.8 billion. Profits shot through the stratosphere as well, surging by 958% between 2017 and 2018.
And analysts predict this growth will continue. By 2020, analysts expect revenue will increase another 32% to $2.3 billion.
Fortinet stock currently trades for $87.59. That's an 11.46% increase from when we last recommended this cybersecurity stock. And it'll continue to grow higher. In fact, analysts predict it'll reach a target price of $105 a share. That's another 20% increase within the year.
Plus, FTNT also trades for more than 36 times earnings at 50% the average for the industry. That's in comparison to the 62 cybersecurity stocks held by First Trust Nasdaq Cybersecurity Exchange-Traded Fund (NASDAQ: CIBR).
But our top cybersecurity stock to buy in 2019 is even better. Its revenue skyrocketed 113% in three years. And that's just the start. By 2020, it will have rocketed 45% higher...
Top Cybersecurity Stocks to Buy in 2019, No. 1