One of our best CBD stocks to buy now is poised to gain 172% over the next year.
And that's because the CBD industry is about to explode.
In fact, it's expecting 3,623% growth in just under three years.
The CBD market is already valued at $591 million since being legalized in the United States in December 2018. But the Brightfield Group says this figure will soar to $22 billion by 2022.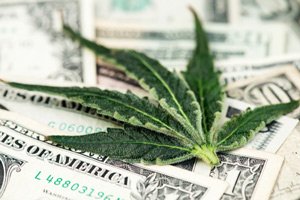 This type of explosive growth is precisely why we're so bullish on CBD stocks and the cannabis sector as a whole.
But before we get to today's top CBD stocks, here's why this industry is climbing through the roof.
Why This Year Has Been a Catalyst for CBD Stocks
The 2018 Farm Bill was signed into law last December. This effectively legalized growing and selling industrial hemp for CBD and other purposes.
Now, CBD can be most easily produced from hemp. And since CBD was legalized, it's on pace to go mainstream across the United States.
This has produced a major catalyst for growth among CBD stocks that are now filling retail and online stores. They provide CBD edibles, oils, lotions, beverages, and more. In some restaurants, it's even served in the salad dressing.
You Have to See This to Believe It: America's favorite "shark" debuts the Angels & Entrepreneurs Summit. Watch now...
Companies like Walgreens Boots Alliance Inc. (NYSE: WBA) and CVS Health Corp. (NYSE: CVS) have seen the potential. These are both companies that have already put CBD products on their shelves.
And CBD companies are cashing in.
So here are the three top CBD stocks to buy right now. Read on for our 172% winner.
Best CBD Stocks to Buy Now, No. 3: Cronos Group Inc.
Cronos Group Inc. (NASDAQ: CRON) is a cannabis company based in Toronto. It was founded in 2013 as an up-and-comer in the marijuana space.
Last September, Cronos expanded its reach to the CBD sector. This was due, in part, to its collaboration with Ginkgo Bioworks, which is allowing the company to produce and sell unique products made from CBD.
The deal between Cronos and Gingko was worth $100 million and pushed its CBD production in a new direction. In lieu of cultivation, the company produces CBD oil by inserting cannabinoid DNA sequences into strains of yeast and allowing them to ferment. This results in high-quality, pure, lab-produced CBD oil. One of the benefits of this is that it can mass-produce these products through reliable processes.
This is just one of the reasons that Cronos is a top CBD stock to own.
This past March, Altria Group Inc. (NYSE: MO), one of the world's biggest tobacco companies, invested $1.8 billion in cash in Cronos.
The influx of capital from that has provided Cronos with the ability to acquire other companies and boost its production across the board.
Even if you haven't bought Cronos stock yet, there's still time to profit from this cannabis giant.
The company produced 120% growth year over year in Q1 2019, and it currently has a huge $5.5 billion market cap. There is still a major CBD rollout on the horizon for Canada, and this company will play a big role in this market.
Cronos also plans to enter the U.S. market by the end of 2019.
Shares of CRON currently trade at $15, and the price target for this stock is $19 within a year. This represents a 26% upside for today's investor.
But compare that to our next CBD stock pick, which could earn you 95%...
Best CBD Stocks to Buy Now, No. 2: Canopy Growth Corp.
Canopy Growth Corp. (NYSE: CGC) is another Canadian cannabis company founded in 2013, but this one is based in Ontario.
While it is one of the world's largest cannabis firms, it's still not too late to get in on the profits from the CBD wave.
This company is innovating and staying ahead of a major growth industry. And it has a list of high-profile partners including Seth Rogen, Snoop Dogg, and even Martha Stewart.
In April, Canopy inked a buyout deal with Acreage Holdings Inc. (OTCMKTS: ACRG), the largest cannabis operator in the United States.
This gave Canopy dominance in nine U.S. states and perfectly positions it to take advantage of the exploding CBD market.
The company has a $14 billion market cap, which could explode even higher with full U.S. legalization of marijuana.
The shares of this CBD stock currently trade at $40, but it is predicted to reach as high as $78 in the next year. This would return 95% to today's investor.
But even that doesn't measure up to the potential gains from our top CBD stock to buy. Here's our favorite pick, which some analysts predict could earn you a 172% profit...
Best CBD Stocks to Buy Now, No. 1