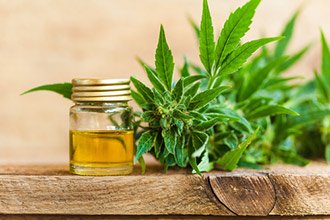 Score one for CBD stocks, as the "risk on" trade is poised for a big comeback.
How can I say this in the wake of the largest decline in the market in 2019?
Well, I like to think in the long term.
What about the fact that interest rates are collapsing right now? That alone is why Goldman Sachs Group Inc. (NYSE: GS) has a 3,100 price target for the S&P 500 by the end of the year.
Worried about the trade war with China? Don't be.
Have we not learned that Trump is all about posturing? He takes a strident position only to reverse himself shortly thereafter.
His future depends on him doing so.
When "risk on" returns, the top CBD stocks will perform even better than the rest of the market.
After all, CBD is all the rage. Not to mention the number of states across the U.S. that are legalizing marijuana for recreational use.
That alone won't jump-start sales, but it's a step in the right direction for the ultimate goal of federal legalization of pot.
STAKE YOUR CLAIM: Three pot stocks in particular could be poised for rare, wild gains of up to 1,000%. Click here to learn how you could see a $2 million "pot payday"...
The market potential for treating ailments like anxiety, sleep disorders, and pain management is massive.
All it takes is legalization, and that's coming. It's not a matter of if, but when.
So while the market is tripping out on trade, I would be looking at using any selling to buy CBD stocks.
And today, we have the three top CBD stocks to buy in August 2019...
Top CBD Stocks to Buy in August 2019, No. 3
CBD is going mainstream as hemp oils are used in more and more household products. One of the big brands in the space is Lord Jones products.
Cronos Group Inc. (NASDAQ: CRON), the first cannabis company to trade on a U.S. exchange, is buying four subsidiaries of Redwood Holdings, one of which is Lord Jones.
The play here is in skin care and lotions.
Think of organic skin care and lotion company Burt's Bees. Lord Jones has the same panache - and more importantly, it has the same upside as Burt's.
Exclusive Rebroadcast of the First-Ever American Cannabis Summit: Click Here to See How to Conquer America's Most Controversial - and Lucrative - Industry...
After the deal was announced, Cronos shares jumped 5%.
That said, July was a rough month for Cronos, and shares are still well off previous highs.
That's the opportunity for long-term investors to buy the king of pot stocks at a discounted price.
Top CBD Stocks to Buy in August 2019, No. 2
The trade war is killing small-cap stocks.
The Russell 2000 index of small companies is firmly in correction territory, down more than 10%.
When "risk on" returns, it will be stocks like Aphria Inc. (NYSE: APHA) that lead the way.
A 20% pop here in the short term is quite possible, given how low interest rates are today.
That's on top of the 40% gains that took place last Friday, when the company reported earnings that blew away expectations.
Seaport has a $13 price target for the company - a near double from current levels.
Aphria is a pure play marijuana stock.
The Canada-based company produces and distributes medical marijuana under the Broken Arrow brand.
Interestingly, the positive earnings report is based on operations outside of the United States. The company barely mentions its neighbor at all when discussing the future.
Instead, the focus appears to be on Germany and other Euro nations that the company currently exports to.
When the risk on trade returns, look for that $13 price sooner rather than later.
And now, here's the best CBD stock you can buy...