Virgin Galactic (NYSE: SPCE), a company aimed at potential space tourists, held its IPO on Friday, Oct. 25, 2019, at $10 per share. Now, the Virgin Galactic stock price is up 9% to $12.93 per share.
It's exciting news when an innovative company has an an initial public offering. But whether you should buy Virgin Galactic stock now that it's trading publicly is another discussion entirely.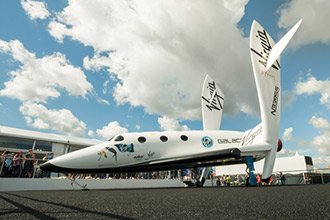 With a valuation over $1.5 billion, it's one of the hottest IPOs of 2019. After all, Richard Branson, the founder of Virgin America and Virgin Atlantic, is involved. This time, instead of airplanes, his company is offering rockets and space capsules.
But should you invest in Virgin Galactic stock?
Here's everything you need to know to make the call…
Whether or Not to Buy Virgin Galactic Stock
Virgin Galactic's parent company is Virgin America Inc. The latter made $56.2 million in net income last year on $1.1 billion in revenue.
Clearly Branson knows how to make money.
Learn how to spot the IPOs that can actually make you money – and leave the flops to the masses – by asking 5 simple questions. Get our free IPO guide.
But Virgin Galactic hasn't matched its parent yet, though it may not be far off. Revenue for 2023 is forecast at $600 million. The company has already had 603 customers knocking on its door, and they've shelled out more than $80 million for just 10 minutes of space travel.
That leads us to the ultimate force behind the stock. It's not the fact of an IPO but the market for space and space tourism. When 2030 rolls around, the space economy is projected to stand at $800 billion, according to The Wall Street Journal. In the same year, space tourism by itself will be worth a whopping $3 billion.
That's just part of the story. Virgin Galactic is poised to provide technology that will help it dominate the market for space.
The company has already created unconventional systems to launch spacecraft and even inexpensive rockets.
You Could Cash In on the next Alibaba, the next Uber, the next Google. We're talking life-changing IPOs here. And it'll only cost you as little as $50. Click here for the full details…
Now that Virgin Galactic has gone public, it's the world's first space tourism outfit to be traded publicly.
But it won't be the last one. Both Elon Musk's SpaceX and Jeff Bezos' Blue Origin are gearing up for space tourism as well.
Being first in the IPO market means that Virgin Galactic is reaping a first-mover advantage in the IPO market for space, but the competition will be fierce.
And that doesn't make Virgin Galactic stock a buy on its own.