Whenever Amazon.com Inc. (NASDAQ: AMZN) moves into an industry, the existing companies there shudder. And for good reason. Amazon is huge, and it's willing to take a loss early on in order to grab market share.
One thing is for sure: Consumers are the winners in these battles. And so are shareholders.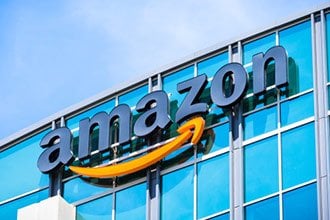 You might think that with interest rates at generational lows, real estate would sell itself. But Amazon sees more. Much more.
In fact, last month, it teamed up with Realogy Holdings Corp. (NYSE: RLGY) to refer potential buyers to Realogy agents via its joint TurnKey program.
Amazon is not selling real estate, but it will, thanks to its enormous reach, funnel potential buyers into Realogy.
Watch Now: Robert Herjavec is helping everyday Americans discover the next Airbnb. Click here now...
Sign up for SMS so you never miss special events, exclusive offers, and weekly bonus trades.
Realogy is a real estate company that owns brand names like Coldwell Banker, Sotheby's, Century 21, and Better Homes and Gardens Real Estate. These are big firms, and they cover the real estate market from the entry-level homes to the most exclusive estates. All together, they employ 190,000 real estate agents in the United States and another 98,200 around the world.
Any potential buyer answers a few questions on the TurnKey platform and will get a call from a Realogy agent in the appropriate brand. But Amazon's magic does not end there.
The Real End Game for Amazon
While there is money to be made in selling homes, think about what Amazon is really doing. It is getting this new customer in the habit of turning to Amazon first when they need to buy something online.
To reward homebuyers who close on a home through TurnKey and Realogy, they will get up to $5,000 in Amazon credits.
Not only will buyers love the extra $5,000 to put toward furnishing their new home, but Amazon will likely hook them into their ecosystem. Not only does Amazon sell smart home devices such as Alexa or Ring doorbells, but its Amazon home services will even install them or assemble new furniture.
New to Money Morning? Click here to find out what we have to offer you...
That's creating customers for life, especially as Amazon makes more and more products available, not the least of which is Whole Foods and a host of other acquisitions, including Audible (books on audio), Zappos (shoes), and Double Helix Games (video game developers). And we haven't even mentioned streaming movies, music, and cloud services.
You see, Amazon wants to sell you anything and everything, and its technology makes it very easy for the customer to buy.
Imagine what can happen if this arrangement takes off. Amazon's muscle and the promise of incentives for successful closings, coupled with the one-stop shopping possibility certainly can disrupt the stodgy old real estate broker business.
The houses and properties may have changed, but the system hasn't. That makes it ripe for disruption.
And you can cash in on it too...