The Dow Jones fell 3.05% after the yield curve inversion saw the two-year yield rise above 1.628% and the 10-year yield go below 1.619% on Aug. 14, the signal that's predicted every recession. But it's not time to panic. It's actually good news for one sector. We'll show you why this signal has been historically good for tech stocks; plus, we'll even show you the best one to own right now.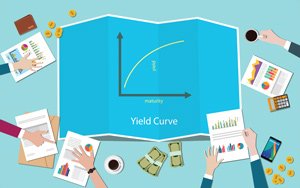 A yield curve inversion happens any time long-dated Treasury yields drop below short-term yields. But the inversion that predicts a recession is when the 10-year yield drops below the two-year yield, which is exactly what happened on Aug. 14 and again on Aug. 21. According to FactSet, the 10-year yield briefly dipped to 1.619%, while the two-year yield went above 1.628%.
It was the first time since 2005 that the two-year yield curve rose above the 10-year yield. A mere two years after the 2005 inversion, the economy entered what would become the Great Recession.
But what many investors might not realize is tech stocks soared between the yield curve inversion in 2005 and 2008. In fact, Bank of America Merrill Lynch says tech stocks have a history of beating the broader market after a yield-curve inversion going all the way back to 1965.
This $6 Stock could make you billions. But when the tech moguls find it, you may never see these shares at this price again... Click here to act before it potentially takes off.
Take a look at how it played out after the 2005 inversion in the chart below - tech stocks outpaced the S&P 500 by more than 10%...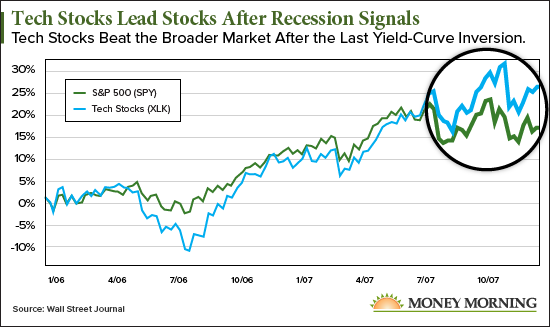 As you can see, this is no time to panic.
That's why we're bringing you one of the best tech stocks to buy right now. We found this tech stock using our Money Morning Stock VQScore™ system - and it's an absolute buy.
In fact, it could pop by as much as 65% over the next 12 months...
One of The Top Tech Stocks to Buy Right Now
Join the conversation. Click here to jump to comments…
About the Author
Daniel Smoot is a Baltimore-based editor who helps everyday investors with stock recommendations and analysis. He regularly writes about initial public offerings, technology, and more. He earned a Bachelor's degree from Towson University.