The Money Morning Stock VQScore™ – derived from our proprietary valuation system – gives you a distinct advantage when you buy (or sell) a stock.
That's because it identifies stocks with the highest potential returns. We track the 1,500 most profitable companies on the market and assign a Stock VQScore based on four key fundamentals.
It's a blended analysis of a company's underlying earnings power, its earnings growth rate, EPS acceleration or deceleration, balanced against recent demand for the company's shares.
A Stock VQScore of 4 is the highest rating a stock can achieve. It means those shares are trading far below their fair value.

A Stock VQScore of 1 is the lowest possible score, indicating less than attractive returns.
You can find a stock's VQScore on the right of its profile page.
[Note: Stocks without a VQScore on their page do not meet our minimum criteria for profitability.]
You can get our top-scoring stocks every week. Enter your email here and you'll immediately get our top 25 – plus you'll get our updated list of the ten stocks with the highest VQScores every week:
By submitting your email address you will receive a free subscription to Money Morning and occasional special offers from Money Map Press and our affiliates. You can unsubscribe at anytime and we encourage you to read more about our privacy policy.​​
The Power of the VQScore
Stocks with a VQScore of 4 have the highest profit potential. Buying shares with a VQScore of 4 is like investing in Netflix stock before it soared to today's record highs. A $1,000 investment in NFLX when it had a StockVQ of 4 would be worth as much as $15,700 today.
A stock's VQScore is determined by its position our Value Quadrants. Each Value Quadrant represents a different combination of a stock's value, demand, and growth prospects.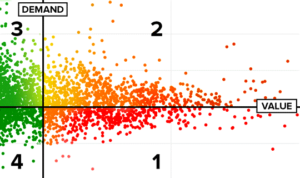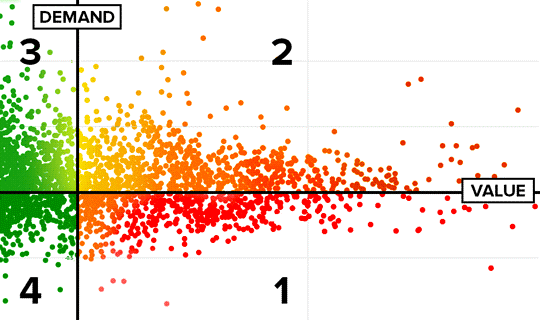 Stocks in Quadrant 4 have the highest potential returns. They are undervalued and, based on our proprietary analysis, positioned to rise.
Quadrant 3 stocks are also undervalued, but do not show as strong a potential for higher share prices as VQScore 4.
Stocks with VQScores of 1 or 2 are trading closer to their fair value and, in some cases, are about to fall out of favor in the markets. This means we expect money to rotate out of these stocks or sectors, limiting future gains. There are still opportunities to profit, but they take a closer, detailed analysis of a wider range of factors.