Comcast Corp. (NASDAQ: CMCSA) just performed its biggest blunder yet. And fortunately enough, Comcast's stupidity is fueling a 188% profit opportunity in another stock that we'll show you in just a bit.
On August 19 (Monday), 181 of the nation's top companies released a joint pledge to serve all "stakeholders," expanding the scope of corporate responsibility from what was previously just "shareholders."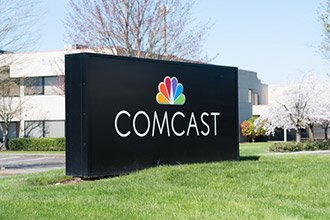 Many wondered if this was merely a political move...
Well, it was - at least for Comcast.
That's right. Comcast was on the list.
Beside companies like Apple Inc. (NASDAQ: AAPL), Coca-Cola Co. (NYSE: KO), and Bank of America Corp. (NYSE: BAC), Comcast pledged to serve the best interests of employees, customers, suppliers, and communities. That's in addition to new shareholders.
Which is crazy, because all of those people hate Comcast. All of them. And that's unfortunately not a bold claim these days.
This Stock Is One of the Market's Rarest Combos: a ground-floor bargain with rock-solid stability and nearly unlimited upside potential. Click here to learn more.
In fact, Comcast is famous for it. This is the company that topped a 2017 list by 24/7 Wall St. ranking "companies hated by consumers, employees, and the general public."
And in 2019, things aren't very different (see customer satisfaction ratings below).
But regardless of any improvement (none so far), what they're doing to shareholders is something they'll regret for years to come - stay with us, it's money in your pocket.
First, here's why Comcast is nowhere near redeeming itself with customers...
Why Customers Hate Comcast
In 2014, Comcast customer service was in the spotlight for all the wrong reasons. The company became known for exceptionally long phone wait times, rude employees, and overpriced products.
So they hired a "consumer experience VP."
According to Comcast, this would "reimagine the customer experience and ensure that we are delighting our customers at each touchpoint."
Good luck.
Now, it's 2019. The American Consumer Satisfaction Index (ACSI) has given Comcast a customer satisfaction rating of 57 for this year and the last.
Now, the ACSI gives the cable and internet industry an average customer satisfaction rating of 62. It's the lowest of the 49 industries surveyed by the ACSI.
So for two consecutive years, Comcast has scored below that industry average with a 57. Worst of the worst.
This has a lot to do with how customers have been treated by employees. But the old adage "hurt people hurt people" has never rang more true than in this instance.
So, of course, customers aren't the only ones fed up with Comcast...
Why Employees Hate Comcast
Gizmodo called it the "Comcast call heard 'round the world." And it's probably the reason Comcast hired a VP of consumer experience.
It was a 2014 recording of a customer calling to cancel their service. The Comcast employee, clearly irritated, is trying to get the customer to answer a cancellation questionnaire, but they can't seem to get past the question, "Why is it you don't want to keep our service?"
The customer, within right, declines to answer, but the call escalates for 8 minutes before the employee concedes to cancel the service.
The customer then shared the recording online.
Of course, everyone talked about how it reflected poorly on the Comcast employee, and Comcast customer service in general. But it also raised questions about how Comcast employees are treated and what might cause an employee to pursue survey information so aggressively.
Gizmodo answered this by providing anonymous postings from Comcast employees who couldn't vent publicly for fear of losing their jobs.
They said things like:
"I work for Comcast in the retention department. I'm currently on disability for mental health problems caused by the stress of my job."
"I feel numb to making our customers happy now since I work tech support at Comcast, and all I care about is my next paycheck of around $900."
And, "I work for Comcast, let me tell you something: that's the worst company ever."
But, honestly, that comes as no surprise when you think about the history of this company's employee-customer relationships.
Also not surprising, this stems from even more internal problems...
Why Suppliers Hate Comcast
In an even more stunning example of the top-down nature of company culture, CEO of Entertainment Studios, Byron Allen, has sued Comcast/NBC Universal for $20 billion.
He alleged that the company refused to make a reasonable offer to carry channels from Entertainment Studios, and that it was in violation of the Civil Rights Act of 1866, "prohibition against racial discrimination in contracting."
This Under-the-Radar Tech Stock could mint trillionaires - yes, trillionaires - with its game-changing 5G network. Just click here to learn more...
Allen said in a recent op-ed for Deadline that Comcast/NBC Universal is "quietly attacking civil rights in the U.S. Supreme Court right now, in an effort to deny us a fair shot at doing business with the company."
But Comcast, as with the typical American almost-monopoly, is getting attacked from all sides.
This is but one among many other lawsuits facing them. Here are a few more...
Why Communities Hate Comcast
Aside from poor customer service, customer complaints about Comcast have arisen from either a poor product or price gouging.
Their internet-cable package is the only option in some areas, and they've taken advantage of that. As a result, they've spent a lot of time in court.
In late-2018, Comcast settled with the Commonwealth of Massachusetts after it violated consumer protection laws by charging early termination fees above $200 and "improperly disclosing fees that increased bills some 40% above the contract price."
Minnesota followed with a similar lawsuit, then the state of Washington sued Comcast for providing "expensive yet impotent" services without customer consent.
These are all things you hope can be easily adjusted over time. Many of us scratch our heads and think that improved stakeholder relationships are probably in the best interest of shareholders.
But the biggest Comcast error yet tells us the company is long off the deep end.
Here's why shareholders won't forgive them, and the one stock that's poised to skyrocket as Comcast lags behind...
Why Shareholders Will Hate Comcast Forever
Comcast has its head deep in the sand.
And their shareholder relationships will hurt the most from this fact. It's not because their employees are rude, not because their Wi-Fi is slow, but because the company is just not forward-thinking enough.
It has to do with 5G.
CEO Brian Roberts said this year that 5G isn't cheaper, faster, or better than landline broadband.
And CFO Michael Cavanaugh has dubbed it an "overbuild," saying, "We've faced that many times in the past." He's referring, of course, to the superficial change from 3G to 4G.
But that's a grave mistake.
It's the "Breakthrough of the Century": The latest tech development is projected to create billionaires by the dozen. You can still get in on the ground floor, before the world "goes 5G." Find out how here...
In fact, many expect 5G to not only change the world, but also for it to replace broadband cable altogether.
The 5G industry is predicted to grow 111% over the next five years to $277 billion.
That's because it will support speeds 100 times faster than 4G. Those speeds will support a more expansive Internet of Things, including driverless cars and smart medical equipment. A whole new world of higher-stakes smart devices can perform more reliably with 5G speeds.
In 2018, Brad Smith, President of Microsoft Corp. (NASDAQ: MSFT) wrote that 5G will get high-speed Internet where broadband can't. These are places where big broadband companies like Comcast have had no financial incentive to go.
Smith writes that wireless is much easier to adopt, and it will give high-speed access to 25 million Americans who never had it before.
So broadband companies like Comcast are clearly missing this boat.
Their competitors, on the other hand, are seizing this massive profit opportunity. And this 5G stock could absolutely skyrocket...
This Comcast Competitor Is a 5G Stock to Buy
[mmpazkzone name="in-story" network="9794" site="307044" id="137008" type="4"]
America's biggest wireless provider, Verizon Communications Inc. (NASDAQ: VZ), is similar in size to Comcast. But, it's able to score above the average 62 customer satisfaction for the industry, at 68 - a solid 11 points higher than Comcast.
But the biggest difference between Verizon and Comcast is that Verizon is a "wireless" company.
While Comcast has insisted that broadband will continue to have a place in society, Verizon has been building out a wireless future across several U.S. cities this year.
In fact, VZ's builds in Chicago and Minneapolis were the first public 5G network accessible to smartphones.
Pioneering 5G rollout in the United States demonstrates that, even though Verizon is a huge conglomerate, it's still forward-thinking enough to get in on the ground floor of a major revolution.
Verizon can expect to be bought up the more it invests in 5G.
VZ trades for $56.83 per share right now. Analysts have given it a target of $67, a decent 17% jump.
The stock has a price/earnings ratio of 14.79, much lower than the industry average of 42.83, so it's steeply undervalued.
And that means, when 5G takes off, it could soar to $164. That's a gain of 188%.
Whether or not that pans out, the stock pays a solid 4.28% dividend, more than double the S&P 500 average.
Over the next five years, analysts expect Verizon to grow earnings 9.46% per annum, which is nearly triple the overall market growth rate expected, according to Morningstar Research.
And Verizon is still the leader in 4G. So you can enjoy those dividend payoffs before 5G takes off... and Comcast is left in the dust.
Silicon Valley Venture Capitalist Proclaims the Advent of the "4th Industrial Revolution"
This leading authority in tech startups has been behind some of the biggest IPO breakouts in history.
He was behind the scenes of Intel, Bitcoin, Twitter, Lyft, and much more...
And now he's found the "breakthrough of the century" - a tech advancement that could mint the world's first trillionaire.
There's still time for you to lock in a ground-floor opportunity before this $6 stock takes off.
Click here to read the full story...
Follow Money Morning on Facebook and Twitter.
About the Author
Mike Stenger, Associate Editor for Money Morning at Money Map Press, graduated from the Perdue School of Business at Salisbury University. He has combined his degree in Economics with an interest in emerging technologies by finding where tech and finance overlap. Today, he studies the cybersecurity sector, AI, streaming, and the Cloud.