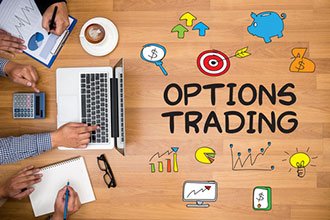 Have you been wanting to trade options but you're not sure how to navigate the dizzying array of terminology around them?
Strike? Put? Bid? What do all these terms mean?
Not to worry. This is your guide to understanding options so you can know exactly what you're getting into before you start options trading.
In just a few minutes, you'll be ready to trade with confidence and make money faster than you ever imagined before.
First, you'll have to get familiar with what's called an "option chain."
Understanding Options: What Is the Option Chain?
An option chain (also known as an option matrix) is a listing of every available option contract for a particular security. So, for example, Amazon.com Inc. (NASDAQ: AMZN) has its own option chain, listing dozens or hundreds of options of different types, with different prices and different expiration dates.
You can typically find an option chain wherever you look up quotes for a stock, including right here on Money Morning. You can also find option chains on your brokerage account where you make your options trades.

When you first look at an option chain, it's easy to get lost in all the numbers. But they're not so complicated if you know what you're looking for.
You don't have to worry about the symbols for each individual option contract. Those are designed so you can tell each option apart, but the information in all those numbers is contained (in an easier-to-read format) in the other columns of the option chain.
The first thing for you to decide is whether you want to buy a call option or a put option. These will usually be in two separate sections on an option chain, either side by side or stacked on top of one another. But you also might be given the choice to see only one at a time.
7-Day Cash Course: With the secrets in this video series, you could potentially start collecting anywhere from $1,190, $1,313, and even $2,830 in consistent income – each and every week. And it can be yours for only $1…
A call option gives you the right to buy the security before the option expires. And a put option gives you the right to sell the security. So if you expect the stock price to go up, you want a call option. If you expect the stock price to go down, you want a put option.
Next you need to choose your expiration date, or maturity date.
That's the date when the option either has to be acted on or forfeited. In other words, if you buy a call option, you need the price of the underlying stock to rise before the expiration date in order to collect your gains.
The further out the expiration date is, the more expensive the option is going to be, because it's more likely the price will move in your favor over time.
Many option chains will let you filter by expiration date with a tab at the top. Otherwise, the chain may be sorted with the earliest expiration date at the top and the latest expiration date at the bottom.
From there, we move to the premium, or the price you pay for the option itself.
Note that it's called a premium because you're not buying shares in the stock itself. You're only paying for the right to buy shares before the option expires.
Also note that the premium is the price you pay per share. Options contracts are usually bundled into 100 shares each. So you would multiply the price by 100 to get the actual price you would pay for a contract.
Just like with stock prices, option prices are in constant flux as they are traded on the market. So, like stock prices, they are typically divided into four columns: last, change, bid, and ask.