Cannabis has already proven to be a boon for health and wellness. From easing the side effects of chemotherapy to treating epilepsy, and even being part of a calming lotion or edible, we are still just scratching the surface of what this wonder plant can do.
And now we are learning that cannabis was found to boost the survival rate from pancreatic cancer, one of the deadliest cancers. That's just a sign of what's ahead of medical marijuana stocks that harness the power of this plant.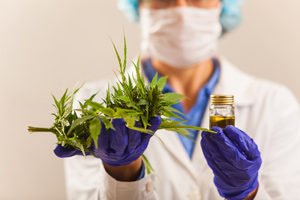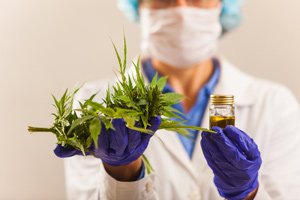 Pancreatic cancer represents only 3% of all cancers in this country, but its one-year survival rate of just 20% is one of the lowest. After five years, the rate drops to 8%. You can see why a drug that raises that survival rate will be huge.
Now that cannabis is being legalized across North America, more research is being done on what medicinal benefits it has.
The cannabis plant contains as many as 100 compounds, called cannabinoids, that work with the body's own systems and receptors. These compounds mimic the naturally occurring chemicals in the body. Therefore, when the body cannot produce enough of its own, supplementation with the proper cannabinoids can restore balance and health.
THC and CBD are simply the most famous of the cannabinoids. But there are so many others that scientists are just now categorizing.
Scientists from Harvard University's Dana-Farber Cancer Institute discovered that another derivative of cannabis, called flavonoids, might actually kill tumor cells. And further, they may be able to attack other types of cancer cells as well.
Once-in-a-Lifetime Summit: Cannabis IPO Expert Danny Brody has turned little-known startups into booming $1.6 billion businesses. Here's how you can make YOUR fortune on today's cannabis underdogs. Click here to check it out...
The researchers hope to complete ongoing preclinical studies by the end of 2020.
While this breakthrough happened in a university laboratory, it's just one more reason medicinal cannabis stocks are poised to explode even higher. We don't know the full extent of the medicinal benefits of cannabis yet, and we're already finding out the plant has the potential to fight cancer.
That's why there's no better time than now to own a medical cannabis company with upside potential.
In reality, we've only seen the tip of the iceberg...
Why Medical Cannabis Is Still Growing
The biggest hurdle to cannabis research is the fact that since 1970, the plant and all its derivatives have been classified as Schedule 1 drugs. This is the most restrictive list and includes the likes of heroin, cocaine, and even fentanyl.
That means medical research using cannabis has been restricted.
Schedule 1 drugs are thought to have no medicinal value. Research so far proves that is not the case with cannabis. And with state after state legalizing its use for medicinal - if not recreational - purposes, the tidal wave of change is coming. The federal restriction will eventually be lifted, and that will open the floodgates of research, medicines, and other products.
Cannabis is already fully legal in Canada, and legalization is gaining steam in the United States. That's how companies like Canopy Growth Corp. (NYSE: CGC) have skyrocketed as much as 1,800% in the last five years.
But with full legalization coming to the United States and more and more discoveries showing the true medicinal value of cannabis, this is just the beginning.
And we want to show you one medical marijuana stock we think has the upside that makes it a buy right now...
There Is Tremendous Opportunity for This Medical Cannabis Stock