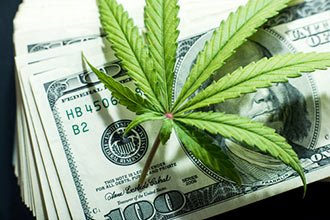 Recreational marijuana stocks have fallen over the last few months. But that makes them even better investments in a legal cannabis market projected to be worth $75.6 billion by 2025.
In fact, one of our best recreational marijuana stocks is up more than 200% within a year.
Over the past several years, legal recreational marijuana has grown from just a few states to 11. That includes even more densely populated states like Massachusetts and California.
It's spurred a $10.4 billion valuation for the industry today.
Since 33 states have legalized marijuana for medicinal purposes, that figure is expected to rise in the future.
This Investing Trend Has Made Millions for Decades: In 1968, one tech IPO could have turned $50 into $5 million. Click here to see how they did it.
The robust market will rise right along with it. Meticulous Research forecasts that the legal weed market worldwide will expand 28.3% every year between 2019 and 2025. In 2025, that would make the market worth $75.6 billion, versus $10.4 billion today.
Growth like this makes recreational weed stocks a great addition to your portfolio.
Of course, marijuana stocks have been volatile in the last year. But that's because this is a brand-new market flooding with competition. And many cannabis firms are not yet profitable. They're bound to see some growing pains.
Investing in pot stocks today is just a matter of picking the market's winners.
We use the proprietary Money Morning Stock VQScore™ system find the companies most likely to see big profits in the near term.
The VQScore analyzes the underlying financials of thousands of companies. It then gives each stock a rating between 1 and 4.9. The higher the rating is, the more likely the stock is about to break out.
A lot of recreational marijuana equities don't make it to even a 1.0 rating, frankly. They have yet to turn a profit.
But our best recreational marijuana stock today has a perfect score of 4.9. That means it's almost certain to lead the recreational cannabis industry.
Analysts expect it to shoot up 212% in price…
The Best Recreational Weed Stock Is a Strong Buy