If you're serious about making money, you need to own stocks and other assets tied to real estate.
Unfortunately, too many investors don't have the capital to own a significant amount of property. Or they aren't able to meet the financial thresholds required to invest in private equity firms. In some cases, the minimum to invest can be in the hundreds of thousands - if not millions - of dollars, well outside the reach of ordinary people.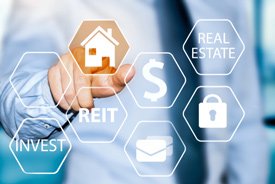 But savvy investors can still tap into a diversified basket of real estate investments for less than $20. These assets capture upside of real estate while also producing cash flows in the form of dividends.
They're called real estate investment trusts, or REITs. And if you find the right REIT, it can make you very wealthy in a short period.
The REIT world is full of niche alternative strategies that can make investors a fortune in a short time. Today, we're going to talk about the companies that control the money behind many of the most exciting real estate investments in the United States.
This stock just received one of the biggest "Buy" signals shares can get – and it pays a 6.6% dividend yield. Click here to get the pick.
We're talking about mortgage REITs - firms that acquire, originate, manage, and finance commercial real estate loans and real estate-related securities. Today, we're unveiling the top mortgage REIT available on the market.
And we'll discuss three reasons why this little REIT - with just a $725 million market capitalization - can make you very rich.
Reason No. 1: the Smart Money Target
The top-performing asset of the last 20 years has been real estate.
Tapping into that trend is difficult unless you're in private equity or other advanced alternative strategies, given the requirement of being an accredited investor.
Now, with the market in a late cycle and interest rates falling, we see a dramatic wave of real estate purchases by alternative investment companies.
We want to jump on and ride this wave by using mortgage REITs.
Join the conversation. Click here to jump to comments…
About the Author
Garrett Baldwin is a globally recognized research economist, financial writer, consultant, and political risk analyst with decades of trading experience and degrees in economics, cybersecurity, and business from Johns Hopkins, Purdue, Indiana University, and Northwestern.