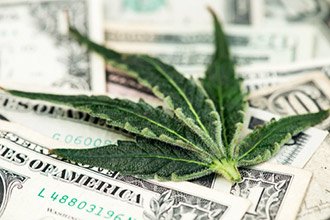 A decade of U.S. marijuana legalization has grown cannabis into an industry worth $10.4 billion today. But the market for CBD is forecast to grow an astonishing 3,623% to reach $22 billion.
And we have a top three list of CBD stocks to buy that could create generational wealth. In fact, one of our top cannabis stocks is poised for a 508% bump.
Since year-end 2018, the share of CBD as part of the market has expanded to over half ($591 million) of the legal cannabis market, according to Business Journal.
Keep in mind that this industry is still young and could soar at any moment to that $22 billion figure put forth by Grand View Research. That's why we're pounding the table on CBD.
Below, we review the list of CBD stocks to watch. This first one is expected to pop 280%...
A List of CBD to Watch Now, No. 3: CV Sciences
CV Sciences Inc. (OTCMKTS: CVSI) is a pharmaceutical company focused on CBD.
Early this year, CV Sciences rolled out a new product, PlusCBD oil. Within a few months, more than 3,300 stores had made it available, a 48% increase in customers' ability to buy it.
Like many CBD companies, CV Sciences is a beneficiary of last year's Farm Bill, which legalized the production of hemp. The company's revenue soared last year to $48 million. Net income rose to more than $10 million.
Its impressive growth is ongoing this year, too. As of 2019's first half, it booked more than $30 million in revenue. Net income in the period reached $1.23 million. CV Sciences is a penny stock that is both growing and profiting.
THREE STOCKS: Any one of these cannabis companies could potentially deliver a 1,000% windfall. Click here to learn more...
CV Sciences shares currently trade at $2.10, but the price is expected to rise as high as $8 over the next year, a 280% potential profit.
That's still a far cry away from the 413% growth potential of this next CBD stock...
A List of CBD to Watch Now, No. 2: Elixinol Global
Elixinol Global Ltd. (OTCMKTS: ELLXF) produces everything from marijuana supplements to medical cannabis to food.
Elixinol is a top stock to watch for several reasons.
First, it's global, selling and manufacturing CBD throughout North America, Europe, and Asia.
Second, the company has a large and successful food business in Australia, with hemp- and weed-based food. It's been active in this market for more than 10 years.
Elixinol is also expanding operations. In 2018, it announced plans to enlarge its facility in Colorado by 12,000 square feet. In just this facility, the company would be able to produce 24,000 bottles of CBD daily.
But Elixinol has further to go. In 2019, it received $50 million from investors, which it is using to expand the Colorado facility by an additional 23,000 square feet. According to GlobeNewsWire, the enlargement would add 100% to the company's production space.
In the past two years, sales skyrocketed to $26 million, a 121% rise. Its net income hit half a million dollars.
For a penny stock, that type of profitability is rare. That's why Elixinol has been on our list of CBD stocks to watch now.
The shares currently trade at $1.18. Analysts expected it to reach $6.06 per share in the next year, a potential skyrocket of 413%.
But it still doesn't beat our CBD stock, a potential 508% gainer...
A List of CBD to Watch Now, No. 1