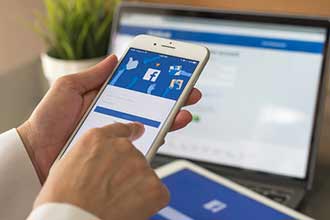 It's happened to all of us. You've been talking to a spouse or friend about a product you need, and the next thing you know, you're bombarded with ads for it.
You can thank digital surveillance companies like Facebook Inc. (NASDAQ: FB) for the eerie intrusions into your privacy.
Well, we've got some news for you. Jimmy Wales, one of the founders of Wikipedia, is working on a new social network that puts your personal privacy first. And he thinks up to 500 million are ready to rid themselves from online manipulation by social media.
Only announced a month ago, it already has 78,000 interested members. The catch is that in exchange for being free from ads and other intrusions, it will cost $12.99 a month (or $100 for a year), with similar rates in Europe.
Among others, one big benefit is the lack of incentive for anyone to post clickbait. That's the low-quality content designed to drive prurient interest and ad revenue. Instead of an army of moderators, it would follow the Wikipedia model, where everyone can edit or modify the content and enforce standards.
If it works, that could be a death blow for companies that rely on low-effort content like Facebook. Facebook is already under the microscope for its anti-consumer behavior thanks to its cavalier approach to customer data and privacy. A real competitor might give customers a true alternative for exchanging their privacy for social media.
That could be the push Facebook needs to send its shares tumbling.
And it could be a source of repeated profits for anyone who sees the writing on the wall…
Why I'm Not Touching Facebook Stock Right Now
Facebook has built its massive profits – $18 billion over the last 12 months – on selling targeted advertisements to its users. But those same users are getting tired of having their privacy undermined.
Recall back in early 2018, when Facebook was front and center in the Cambridge Analytica scandal. That involved the harvesting of the personal data of millions of peoples' Facebook profiles without their consent for use in political advertising and targeting.
And it still continues today, as the U.S. Federal Trade Commission urged states to dig into Facebook's practices as violation of antitrust laws this week.
But people seem to have reached their limits on what they'll let the company do.
A quarter of American Facebook users have deleted their accounts. And when we break it down, almost 44% of the key 18- to 29-year-old demographic has ditched the social network.
Vendors aren't immune to Facebook's questionable business ethics, either. Last month, we found out that Facebook will pay $40 million to settle a score of advertiser lawsuits alleging that the company overstated video views by as much as 900%.
The writing may be on the wall for Facebook. In fact, Money Morning Chief Investment Strategist Keith Fitz-Gerald called it the next MySpace.
But what can investors do other than avoid the stock? Shorting the stock is a fool's errand right now, as that can bankrupt you before Facebook finally implodes. After all, its numbers still look pretty good, and as of the third quarter of this year, it had 2.45 billion monthly users worldwide, according to Statista.
That's a lot of potential untapped revenue, ethically sourced or not. The stock isn't hitting zero anytime soon.
But there is a way you can turn the controversy into profits…
How to Trade Facebook All the Way Down