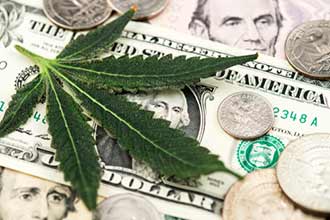 CBD was one of the biggest breakout sectors this year, and as it continues to grow, we're going to show you what might be the best CBD stock to buy in 2020.
No doubt, most investors have heard by now about the healing properties of cannabidiol, or CBD. That's the non-psychoactive compound in the cannabis plant that can help with pain relief, calming, and overall better health. Many have already invested in cannabis stocks, poised to ride the wave.
But the excitement surrounding cannabis may have gotten ahead of itself. Legal weed stocks soared in the first half of 2019 but came back down to earth in the second half.
The industry is still working out the kinks. Supply and distribution chains were not ready, and neither were regulations and other back-office functions. That's to be expected in such a new industry.
But now, with more and more states and countries making it legal, CBD is getting back on track.
Early in 2019, Money Morning Director of Cannabis Investing Research Greg Miller called this "the year of CBD." He was right in spades, too. There are lotions, potions, beverages, and medicines out there, all enhanced with CBD. It is becoming quite common to see them in your favorite local stores.
But the future looks even better for CBD. Research is now underway on how CBD could help autism, post-traumatic stress, and even the career-ending chronic traumatic encephalopathy (CTE) suffered by professional athletes in the NFL.
It has been hailed as part of the solution to opioid addiction, thanks to its pain-controlling abilities. That alone should make it of utmost importance with politicians and those who are responsible for funding and regulating it.
Greg still thinks cannabis is a monster growth story. Back in January, he wrote that the market was already worth $55 billion and could be worth $146.4 billion by 2025.
Many cannabis stocks are firming themselves up for the next phase in their growth. Their stock prices, now well down from earlier highs, offer tremendous value going forward.
And here's what could make this one of the best 2020 CBD stocks…
Why This Top CBD Stock Could Soar in 2020