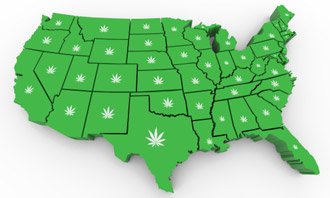 First, the bad news. The federal legalization of marijuana is unlikely in 2020.
The good news for investors: Federal marijuana legalization will happen eventually. It's a matter of "when," not "if."
In 2020, nine more states will be voting to legalize cannabis in some form. If all states pass their initiatives, 40 states will have some form of cannabis legalization. Already, 33 states have legalized marijuana in some form. That includes 11 that have legalized recreational use (plus Washington, D.C.).
This stock is set to double or more in the next 12 months. A recent catalyst has these shares already moving, so click here now to get the pick - it's free!
Nationwide, roughly 66% of Americans favor marijuana legalization at the federal level.
Despite the overwhelming support, federal marijuana legalization still faces several hurdles in the near term.
Here's what's standing in the way - and when we could see the tides turn...
When Will Marijuana Be Legal Nationwide? Don't Bet on 2020
There were positive developments for cannabis in 2019. Most notable was the passage of the Marijuana Opportunity Reinvestment and Expungement (MORE) Act by the House Judiciary Committee in November.
The act proposes federally decriminalizing marijuana, removing it from the list of controlled substances, expunging previous nonviolent cannabis convictions, and establishing a 5% federal tax rate on cannabis.
It was the first ever marijuana reform measure to be voted on in U.S. Congress. And it was passed overwhelmingly (24-10) by the judiciary committee.
But that appears to be the end of the road for the bill. And with it ends any hope of federal legalization of marijuana in 2020.
For MORE to become law, it would need to be passed by the Senate. And Senate Majority Leader Mitch McConnell (R-KY) is notoriously anti-cannabis.
Not only is it unlikely that a republican-controlled Senate would pass the MORE Act, McConnell is not likely to even bring it to a vote.
So when will marijuana's federal legalization happen? Here's our prediction...
Federal Marijuana Legalization Predictions
At Money Morning, we don't take sides politically. We don't have time to. But we are always watching how the political landscape impacts your money.
For marijuana investors - and those that favor cannabis's federal legalization - the politics of the situation are crucial.
Here's what I mean...[mmpazkzone name="in-story" network="9794" site="307044" id="137008" type="4"]
As of October 2018, 75% of Democrats and 71% of Independents supported broad legalization. According to Gallup, only 53% of Republicans supported it.
A more progressive shift will have to happen in the Senate for marijuana to be legalized federally. That doesn't mean the House will have to flip blue, but it does mean changes will be needed in leadership.
As long as Mitch McConnell controls the Senate, there is virtually no chance for federal changes.
McConnell did lead the passage of the Farm Bill in 2018, which allowed for the industrial production of hemp. But that seems to be his limit.
In 2018, Republican Senator Cory Gardner of Colorado introduced the States Act to allow individual states to regulate their own cannabis industries. It appeared to have bipartisan support, as it was also introduced with Senator Elizabeth Warren (D-MA). U.S. President Donald Trump also said he "probably" would support the bill back in 2018.
The National Institute for Cannabis Investors is your go-to source for reliable, up-to-date information about cannabis investing. Click here to automatically subscribe to Cannabis Profits Daily, the Institute's free newsletter, and get industry news and profit opportunities sent right to your inbox.
Despite the broad support, McConnell blocked the bill.
McConnell is up for reelection in 2020. But in a deep-red state like Kentucky, it remains unlikely he is unseated. McConnell is 77 years old, so his retirement in the next five years is another possibility.
Considering marijuana reform is now a bipartisan issue, McConnell appears to be all that's in the way of federal legalization.
One thing that's undeniable is that the state-by-state legalization of marijuana is unstoppable. And the most recent state to legalize has opened up another massive profit opportunity...
Illinois Becomes the 11th State to Legalize Cannabis (Making More People Rich)
Cannabis laws are being reformed en masse: Illinois has not only become the 11th - and second largest - state to legalize marijuana, but the first to do so by way of state legislation.
That means the medical, personal, and economic benefits of "America's Green Gold Rush" are appealing to Republicans and Democrats alike.
One cannabis research executive is hailing Illinois the "Marijuana Mecca of the Midwest," a hallmark of the rising uncapped profit potential ahead.
Once the feds end cannabis prohibition nationwide, all bets will be off - demand will boost share prices through the roof. But you can still get in on the ground floor, just in time for what could be the windfall of the century.
Illinois is already housing some of our top picks in the industry, so a few of our favorite stocks could get yet another boost.
Just click here to see how you can get them - and to potentially profit from this "unstoppable economic revolution"...