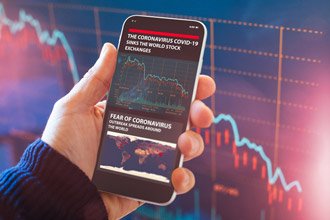 With the extreme moves in the market today, it would be easy to close your eyes and just hope things get better. But the trader's best weapon right now is a sober view of reality.
Reacting to each market extreme or avoiding markets altogether isn't a winning strategy. Remember, for all the losses you see, somebody is taking the other side of all these trades and is making a killing.
Why not you?
The good news is that you don't have to go it alone. That's why we are here and Money Morning's options trading specialist, Tom Gentile, has a few things to offer. It's really a simple three-part plan that anyone can follow.
Here it is:
Take less risk in your current strategies.
Look at what's going up in a down market.
Exploit volatility (using options).
Today, we're going to show you how to follow Tom's strategy and how you can come out of this coronavirus crash with more cash in your pocket…
How to Trade the Coronavirus
First, Tom says to take less risk in your trades.
When the market goes haywire, it's best to think small. What that means is cut back on the size of your trades to reduce risk. At the same time, remember that volatile markets can make big price moves that can nicely line your pockets.
Just Released: "Three Ways to 'Immunize' Your Portfolio Against Coronavirus Market Chaos." Get this special report now, for free. Click here...
You can also use different strategies to minimize risk, like options spreads or straddles. This isn't the time to swing for the fences on an expensive call option with an expiration date months away.
Second, look at what trades are working in today's market.
In other words, "Buy relative strength." That means that some stocks resist the carnage better than others, and more often than not, they tend to lead once the bear has left town.
Relative performance leaders are the last stocks that investors want to unload. They dump their least favorite first, holding on to a select group until they absolutely have to sell.
Which stocks do you think they will want to buy as soon as the market calms down? That's right, the relative performance leaders.
Remember, just because they are relative leaders doesn't mean they can't go down in price. Look for the ones that seem to be bucking the bearish trend, even if they are falling.
Check out such stocks as Costco Wholesale Corp. (NASDAQ: COST) and Gilead Sciences Inc. (NASDAQ: GILD). Have you seen the lines wrapped around the block these days trying to get into Costco? And what about a biotech company working on a COVID-19 cure?
Both of these stocks, and many others, are rallying this week. Costco set a higher low when the market set a lower low. Gilead never fell far enough to set a new low year to date.
You've heard about Clorox Co. (NYSE: CLX) stock soaring on everyone's rush to buy disinfecting supplies. This stock rallied from about $170 when the market peaked on Feb. 19 to over $200 this week. It may be a little late for this one, but you can see how there are companies out there still making money or about to make money.
Finally, since the market is very volatile, let's use strategies that take advantage of it. The best way is with options, but not just any options. We want to focus on liquid options, such as those on the major ETFs.
The last thing you want to do is own an option you can't sell because there are no buyers for it. And with so many people jumping into options right now, there may be more sellers than buyers down the road.
That's not the case with heavily traded shares, like ETFs.
Putting Tom's strategy together, let's look at how we might set up a trade on an ETF right now…