Wall Street is full of old saws. There is one for just about every occasion, including when it's finally time to take advantage of this current bear market and buy.
And one you're going to hear over and over soon is "stock market capitulation."
Let's talk about one of the most hotly debated phrases on Wall Street - one people want to see at the end of bear markets...
What Is Stock Market Capitulation?
Capitulation is the final selling in a bear market where even the most ardent bulls give up. They stop trying to pick the bottom while emotions everywhere run so high that people want to sell everything without regard to price. "Just get me out!"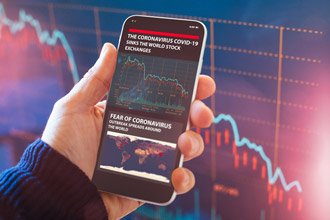 We can tell when the market experiences capitulation because prices of just about every stock tumble together on soaring volume. It's essentially a stampede through the exit doors, and as you can imagine, those exit doors are not wide enough to let everyone through at the same time.
Prices drop quickly and they drop hard as supply swamps demand.
But just because everyone has given up on the market does not necessarily mean it is time to buy. Stocks can languish at low levels for weeks and months before a new bull market can begin. That's why we call it capitulation. People have simply given up on stocks. They've given up trying to pick the bottom or trying to buy at a discount. They are out.
Market Chaos Action Plan: Coronavirus panic has the market unhinged. Get three strategies for beating volatility, including the most powerful wealth-building tool for buying low. Click here now...
Still, capitulation is usually necessary for a bear market to end. It creates the environment where the market can lick its wounds, rest for a while, and then, when few people are looking, start to pull itself back up.
Of course, the question you're now asking is whether we've seen capitulation yet.
Here's what to make of it.
What Comes Next for Stocks