It's not hard to find cheap stocks today. With some stocks down as much as 30%, many are calling it the opportunity of a lifetime.
And that's true. This is a good chance to pick up stocks you'll want to hold for a while at a discount. But for investors who still want big gains in a short amount of time, uninhibited by the viral outbreak, it could be time to look at penny stocks.
Our best penny stock to buy today could pop 212%.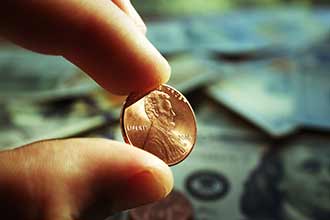 That's because it sells a product that has been deemed "essential" in many states during the outbreak. It's also in one of the biggest growth industries you can invest in this year, even after the outbreak calms and the economy recovers.
No one knows when everything's going to go back to normal. But if you're looking for massive gains over a short period, viral outbreak or none, and you can tolerate the risk, this is the best marijuana penny stock to buy.
Why Marijuana Penny Stocks?
Several state governments deemed medical marijuana "essential" last week during the outbreak. That means going to a dispensary would be a valid reason to leave your home in a lockdown in at least 20 states.
But you know what? There's one CBD stock whose product you'll be able to buy in almost every state no matter what. It's at your local grocery store, and it's already in thousands of stores across the United States.
Get Your Buy List Ready: COVID-19 has crushed markets, but stocks will bounce higher. This is a once-in-a-lifetime chance to get into great companies at historically low prices, so put these stocks on your buy list now...
What makes this not only a buy-and-hold but also a superb growth stock is that CBD is growing in popularity. People are using it to treat medical conditions like chronic fatigue or depression. Professional athletes like golfer Bubba Watson and ex-NFL star Rob Gronkowski have even endorsed CBD for its healing properties.
The CBD industry in particular has been poised to grow to $22 billion over the next three years. That's more than 3,000% from around $10 billion in 2019. And we're starting to see that even a lockdown of some areas of the United States might not be able to stop it.
Because this is a penny stock - which means it trades for under $5 - it's poised to double or triple on a market trend like this. It's only more fuel for investors to know that the industry is resilient to the current pandemic outbreak.
With this CBD product exposed to millions on grocery shelves, and an imperative for everyone to quarantine themselves, it's hard not to imagine CBD spiking in popularity.
Here's the coronavirus penny stock ready to rocket 212%...
The Cannabis Penny Stock to Buy Right Now
Join the conversation. Click here to jump to comments…
About the Author
Mike Stenger, Associate Editor for Money Morning at Money Map Press, graduated from the Perdue School of Business at Salisbury University. He has combined his degree in Economics with an interest in emerging technologies by finding where tech and finance overlap. Today, he studies the cybersecurity sector, AI, streaming, and the Cloud.