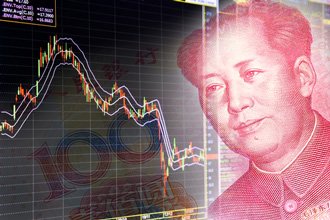 Make no mistake: China's growth rates are staggering. And investing in China gives you the chance to own companies in what will soon be the world's largest economy.
We'll even show you a potential Chinese growth stock with 717% growth potential.
Be careful, though.
Investing in China isn't the same as investing in the United States. You'll have to be leerier of the staying power of Chinese investments.
How to Invest in China
While American investments are subject to the free market, Chinese companies are controlled by the whims of China's authoritarian leaders. Success in the market will depend on if the Chinese Communist Party values the stock as much as you do.
So start with keeping your eye on the company's role in the grand scheme of the Chinese economy. The size of the company will matter.
Smaller companies contribute only a tiny fraction of value to the Chinese economy. And they could eventually be "cleaned out" of the system, as Money Morning Capital Waves Strategist Shah Gilani points out.
Alibaba Group Holding Ltd. (NYSE: BABA), for instance, is a large market cap at $500 billion and trades on a major exchange. You're more likely to want to invest in BABA than, say, 111 Inc. (NASDAQ: YI), a $500 million market cap.
Shah says companies like Alibaba are a "reflection of the Chinese market" or "Chinese entrepreneurship." So the Chinese government, a careful manager of optics, is more likely to stand behind them if they fail.
Get Your Buy List Ready: COVID-19 has crushed markets, but stocks will bounce higher. This is a once-in-a-lifetime chance to get into great companies at historically low prices, so put these stocks on your buy list now…
That's truer now than ever thanks to the coronavirus pandemic and trade war, which have stifled China's economy.
China wants the market to reflect the fact that the Chinese are getting back to business. "It means the Chinese are going to manipulate some of these big stocks up," says Shah.
That's how you should play them. Alibaba is not as elastic to broad market moves as an American company, because it's a Chinese government darling.
This is the "magic" of China's ultra-interventionist central bank. As long as the government can continue to bail out one of its prized firms, that firm will grow.
Companies as big as Alibaba, with enough reach, will still have potential as long as the world economy stays above a certain threshold of disaster.
Shah recommends the same strategy for Chinese stocks as he would for American stocks today. Stocks are cheaper. It's the buying opportunity of a lifetime.
Find a stock you like, allocate an amount of capital you want to put in, and pick a position. And it may go down further, but if that happens, simply buy more.
Here's another Chinese stock to buy cheap during the coronavirus crash.
The Chinese Stock to Buy Right Now
Join the conversation. Click here to jump to comments…
About the Author
Mike Stenger, Associate Editor for Money Morning at Money Map Press, graduated from the Perdue School of Business at Salisbury University. He has combined his degree in Economics with an interest in emerging technologies by finding where tech and finance overlap. Today, he studies the cybersecurity sector, AI, streaming, and the Cloud.