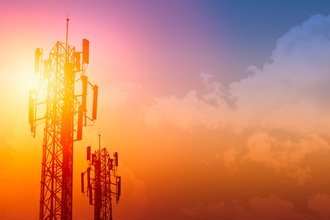 The coronavirus has pummeled certain corners of the economy. In other corners, however, a robust recovery has already taken place. Some industries have benefited from a swell of stimulus spending, Fed intervention, and robust asset purchases.
Nowhere has this been more evident than in the real estate market.
Commercial real estate has been hammered over the last month as concerns about social distancing and the inability of companies to make rent pummel landlords. Some of the most well-managed mall owners, outlet center operators, and office building managers have taken it in the teeth. As we noted earlier this week, these REITs should be avoided until we have a complete understanding of what the U.S. Federal Reserve plans to do to provide support.
However, we've seen remarkable snapbacks in hospital REITs like Medical Properties Trust Inc. (NYSE: MPW) and data center REITs like Digital Realty Trust Inc. (NYSE: DLR).
Hospital systems have all but been guaranteed full support by the federal government - and demand for data storage is booming at a time when millions of workers have moved into remote operations. Consumers are also buying more than ever online, and companies are reassessing their digital strategies.
But there is one more area of REITs for investors to be hyper-bullish on now.
Today, we're going to discuss a freight train of profits coming to one recession-proof industry - and how you can cash in on this "must own" sector.
This REIT Has a Top-Ranked Vertical
If you're looking for "stay at home" stocks, look no further than the overlooked cell tower industry. Just a few weeks ago, some people speculated that wireless companies might miss rents for the towers that transmit phone calls across the country.
Get Your Buy List Ready: COVID-19 has crushed markets, but stocks will bounce higher. This is a once-in-a-lifetime chance to get into great companies at historically low prices, so put these stocks on your buy list now...
But cell tower REITs - the companies that host infrastructure for the wireless industry - have thrived.
So far this year, cell tower REITs follow only data centers in terms of performance. These are the only two REIT sectors that have shown positive returns, with cell towers clocking in about a 5.5% return this year.
The cell tower and wireless infrastructure REIT sector accounts for about $200 billion in market capitalization. We're primarily talking about firms with towers that host broadcast antennas owned by wireless companies like Verizon Communications Inc. (NYSE: VZ), AT&T Inc. (NYSE: T) and T-Mobile US Inc. (NYSE: TMUS). They also provide satellite hosting for companies like DISH Network Corp. (NASDAQ: DISH).
Investors looking at this sector have a right to be bullish. Mobile data traffic is expected to surge as much as 40% per year, over the next decade. The growth of the Internet of Things combined with the rise of major technologies like self-driving vehicles will continue to be a boon for the sector.
In addition, large cell towers will provide a massive mix of capacity and high-density coverage across the country with the integration of 5G. The fact that there are very few of these towers provides a very solid economic moat for this sector.
Finally, the expansion of cell tower REITs across the globe will grow as consumers continue to adopt wireless technologies and embrace mobile connectivity.
There are three major cell tower REITs. Let's take a look at all three.
The 3 Best Cell Tower REITs to Own Now
[mmpazkzone name="in-story" network="9794" site="307044" id="137008" type="4"]
First, American Tower Corp. (NYSE: AMT) is the giant in the space. In the case of this industry, bigger is certainly better, particularly if they have growth potential abroad.
With a $105 billion market cap, AMT shares have rallied from a low of $164.32 in mid-March to $257.58 per share. The company has more than 40,000 towers in the United States, and another 137,000 towers around the world.
It benefits from little debt, high margins, and an economic moat that helps it continue to grow and generate cash flow.
Right now, shares sit at $257.43 per share. However, we project that continued growth in this sector will put the stock to $275 in the months ahead. That's a conservative estimate, as the upside over the next year is closer to $300 per share.
Crown Castle (NYSE: CCI) is a U.S.-based REIT that has more than 40,000 cell towers and more than 70,000 miles of fiber supporting the mobile communications industry. The company currently pays a dividend of 2.94% and trades at roughly $163.27 per share.
However, increased demand in this category and its recession-proof business makes it an ideal breakout candidate as capital continues to flow into the sector. We project that the stock could easily hit $185 over the next 12 months as the U.S. economy recovers. That price represents a 13.3% gain from today's level.
SBA Communications Corp. (NASDAQ: SBAC) has 16,401 cell towers in the United States and roughly the same number in the growing Latin and South American markets. The REIT has been one of the top performers of the year, ticking up more than 17% since January.
Investors recognized during the recent downturn that cell tower REITs maintained a solid economic moat. The rally comes after it returned roughly 49% in 2019. But we think this company is just getting started given its strong international foothold. Shares currently trade at $303.49. The company pays a much lower dividend than its rivals at just 0.61%. But its upside is very tantalizing.
Given the ongoing flush of capital back into the markets and the increasing optimism, we project that SBAC stock could hit $350 over the next 12 months. That price target represents a 15.5% gain in the months ahead.
Crisis Response Webinar: How to Trade amid the COVID-19 Crisis
Tom Gentile rarely opens the doors to his command center... but today, he's granting virtual access to explain exactly how the markets have been impacted by the COVID-19 pandemic. He's going to dig into the market's most crucial areas: stocks, bonds, the dollar, gold, oil... and show you where each sector stands - and where they're headed next. Tune in right here.